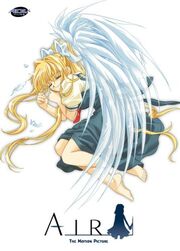 Air: The Motion Picture
is a 2005 Japanese animated drama film directed by Osamu Dezaki and written by Makoto Nakamura based on the visual novel Air by Key. Originally, the film was set for a release date in autumn 2004, but was delayed; the film finally premiered in Japanese theaters on February 5, 2005. The film, animated by Toei Animation.
Before going to DVD, a thirty-minute sample of the film was streamed online by Animate between June 2 and June 16, 2005 two weeks later. The film was later sold on DVD and released in three editions: the Collector's Edition, the Special Edition, and the Regular Edition on August 5, 2005. The Air film was licensed for English language distribution by ADV Films and was released on December 11, 2007. The license of the film was transferred to FUNimation Entertainment in July 2008 who will continue to release the film in North America.
Voice Cast
Additional Voices
Ad blocker interference detected!
Wikia is a free-to-use site that makes money from advertising. We have a modified experience for viewers using ad blockers

Wikia is not accessible if you've made further modifications. Remove the custom ad blocker rule(s) and the page will load as expected.