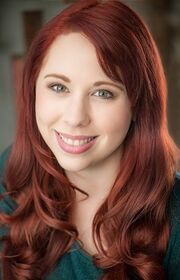 Alexis Tipton
(born August 11, 1989) is an American voice actress working for FUNimation Entertainment.
She's known for voicing Mizuki Himeji in Baka and Test: Summon the Beasts, Inori Yuzuriha in Guilty Crown, Julia Crichton in Fullmetal Alchemist: The Sacred Star of Milos, Anya Hepburn in Soul Eater NOT!, Moka Akashiya in Rosario + Vampire, Saya Kisaragi in Blood-C, Kurumi Tokisaki in Date A Live, and Alisha in Tales of Zestiria the X.
Filmography
Anime
A Certain Magical Index - Hyōka Kazakiri
A Certain Magical Index II - Hyōka Kazakiri
A Certain Scientific Railgun - Additional Voices
A Certain Scientific Railgun S - Girl B (ep2), Naoya (ep4), Additional Voices
ACCA: 13-Territory Inspection Dept. - Lotta Otus
Aesthetica of a Rogue Hero - Haruka Nanase
Akiba's Trip: The Animation - Miumiu (ep9)
Aquarion Evol - Mix
Aquarion Logos - Kokone Kikogami
Aria the Scarlet Ammo - Additional Voices
Attack on Titan - Mina Carolina
Attack on Titan: Junior High - Mina Carolina
B Gata H Kei: Yamada's First Time - Yamada's Eros Deity
Baka and Test: Summon the Beasts - Mizuki Himeji
Baka and Test: Summon the Beasts 2 - Mizuki Himeji
Bamboo Blade - Yūri Andō, Additional Voices
Ben-To - Additional Voices
Birdy the Mighty Decode:02 - Kred (ep6), Additional Voices
Black Butler - Jill (ep17), Queen Victoria, Additional Voices
BlazBlue: Alter Memory - Luna, Platinum the Trinity, Sena, Additional Voices
Blood Blockade Battlefront - Additional Voices
Blood-C - Saya Kisaragi
C - Control: The Money of Soul and Possibility - Bell (ep5), Grue (ep3), Additional Voices
Casshern Sins - Niko (ep9)
Chaos Dragon - Ulrika Ledesma
Chaos;HEAd - Additional Voices
Chrome Shelled Regios - Myunfa Rufa, Additional Voices
Corpse Princess - Flesh Backbone, Additional Voices
Cøde:Breaker - Chisa, Additional Voices
D-Frag! - Fukuko Nishinaga (ep12)
D.Gray-Man - Additional Voices
Daimidaler: Prince V.S. Penguin Empire - Additional Voices
Dance in the Vampire Bund - Yuki Saegusa
Danganronpa: The Animation - Komaru Naegi (ep1)
Date A Live - Kurumi Tokisaki/Nightmare
Date A Live II - Kurumi Tokisaki/Nightmare
The Devil Is a Part-Timer! - Rika Suzuki
Dimension W - Sophia
Divine Gate - Midori
Dragon Ball Super - Trunks, Gotenks
Dragon Ball Z Kai - Erasa
Dragonar Academy - Rebecca Randall
Dragonaut -The Resonance- Jin's Cousin (ep1), Lady Office Worker (ep1)
ēlDLIVE - Ninotchka
Eureka Seven Ao - Additional Voices
Fairy Tail - Millianna, Additional Voices
Fractale - Additional Voices
Free! Eternal Summer - Hayato Shigino
Freezing - Kaho Hiiragi
Fullmetal Alchemist: Brotherhood - Additional Voices
The Future Diary - Moe Wakaba
Ga-Rei-Zero - Yomi Isayama
Gangsta. - Loretta Cristiano Amodio
Garo: The Animation - Irene (ep8)
Good Luck Girl! - Additional Voices
Guilty Crown - Inori Yuzuriha, Mana Ōma
Haganai - Rika Shiguma
Haganai NEXT - Rika Shiguma
Heaven's Lost Property - Additional Voices
Heaven's Lost Property: Forte - Additional Voices
Heavy Object - Milinda Brantini
Hero Tales - Laila Seiren
High School DxD - Marion (ep10), Additional Voices
High School DxD: BorN - Additional Voices
High School DxD: New - Additional Voices
Hyouka - Fuyumi Irisu
Initial D: Fourth Stage - Additional Voices
Is This a Zombie? - Fantasy Eu (ep1)
Is This a Zombie? of the Dead - Fantasy Eu
Jormungand - Additional Voices
Kamisama Kiss - Ami Nekota
Kamisama Kiss 2 - Ami Kekota
Kantai Collection - Kongou
Kaze no Stigma - Mie Sugino (ep17)
Keijo!!!!!!!! - Kazane Aoba
Kenichi: The Mightiest Disciple - Boy (ep39), Walkyrie Member D, Additional Voices
Kiss Him, Not Me - Additional Voices
Last Exile: Fam, The Silver Wing - Cecily, Additional Voices
Laughing Under the Clouds - Additional Voices
The Legend of the Legendary Heroes - Eslina Folkel, Additional Voices
Linebarrels of Iron - Emi Kizaki
Lord Marksman and Vanadis - Additional Voices
Luck & Logic - Athena
Maken-Ki! Battling Venus - Kimi Satou
Maria the Virgin Witch - Maria
Masamune-kun's Revenge - Young Aki
Michiko & Hatchin - Bebel Feng-Yi (ep17)
Mikagura School Suite - Mewmirin
Monster Hunter Stories: Ride On - Nariki
My Bride is a Mermaid - Sun Seto
My Hero Academia Season 2 - Mei Hatsume
No-Rin - Aleggsis (ep6), Additional Voices
Nobunagun - Galileo Galilei
Noragami - Kofuku, Additional Voices
Noragami: Aragoto - Kofuku
Ōkami-san and her Seven Companions - Suzume Shitakiri, Additional Voices
One Piece - Fukurou, Littonto, Additional Voices
Panty & Stocking with Garterbelt - Additional Voices
Princess Jellyfish - Young Kuranosuke Koibuchi, Additional Voices
Prison School - Hana Midorikawa, Bullied Kid (ep8)
Psycho-Pass - Yuki Funahara
Rage of Bahamut: Genesis - Gabriel
ReLIFE - Rena Kariu
RIN ~Daughters of Mnemosyne~ - Additional Voices
Riddle Story of Devil - Haru Ichinose
Rideback - Megumi Yoda (ep1), Additional Voices
Robotics;Notes - Hayakawa, Additional Voices
The Rolling Girls - Mamechiyo
Rosario + Vampire - Moka Akashiya
Rosario + Vampire Capu2 - Moka Akashiya
The Sacred Blacksmith - Charlotte E. Firobisher
Sakura Quest - Yoshino Koharu
Sankarea: Undying Love - Juri
Sekirei - Musubi, Yume
Sekirei: Pure Engagement - Musubi, Yume
selector infected WIXOSS - Mayu
Senran Kagura - Ikaruga
Seraph of the End - Kouta Hyakuya, Maharu Hiragi
Sgt. Frog - Chiruyo Tsukigami (ep27), Little Boy (ep19), Mermaid (ep20), Additional Voices
Shakugan no Shana II (Second) - Harumi Fujita
Shakugan no Shana III (Final) - Grogach, Harumi Fujita (ep1)
Shangri-La - Magical Gina, Nao, Additional Voices
Shiki - Kaori Tanaka
Shin-chan - Beauty (ep72), Kaede Kuriko (ep66), Karen (ep60), Additional Voices
Shomin Sample - Maya Mibu
Show By Rock!! - Chuchu
Soul Eater - Additional Voices
Soul Eater NOT! - Anya Hepburn
Space☆Dandy - Honey, Additional Voices
Steins;Gate - Boy (eps13-14), PA Announcement (ep16)
Strike Witches 2 - Martina Crespi (ep12)
Tales of Zestiria the X - Alisha Diphda
Terror in Resonance - Additional Voices
Three Leaves, Three Colors - Yōko Nishikawa
The Tower of Druaga: The Aegis of Uruk - Alla, Princess (ep1), Additional Voices
The Tower of Druaga: The Sword of Uruk - Alla, Additional Voices
Tokyo ESP - Yomi Isayama
Tokyo Ghoul - Nishiki's Older Sister (ep5)
Tokyo Ravens - Hou'oubiden, Mari Yuge, Additional Voices
Touken Ranbu: Hanamaru - Midare Toushirou
Ultimate Otaku Teacher - Madoka Kuramachi
Unbreakable Machine-Doll - Irori
The Vision of Escaflowne - Merle (FUNimation Dub)
We, Without Wings - Under the Innocent Sky. - Kinako Mochizuki
World Break: Aria of Curse for a Holy Swordsman - Sofia Mertesacker, Additional Voices
WorldEnd: What are you doing at the end of the world? Are you busy? Will you save us? - Nephren-Ruq-Insania
Yamada-kun and the Seven Witches - Noa Takigawa
Yona of the Dawn - Yuno (ep16)
Yuri!!! on Ice - Yuuko Nishigori
Yurikuma Arashi - Kureha Tsubaki
Anime Shorts
Anime Specials
Live Action Movies - Dubbing
Movies
OVA
Video Games
Web Anime
Trivia
Number of VA titles on this wiki: (194)
Ad blocker interference detected!
Wikia is a free-to-use site that makes money from advertising. We have a modified experience for viewers using ad blockers

Wikia is not accessible if you've made further modifications. Remove the custom ad blocker rule(s) and the page will load as expected.