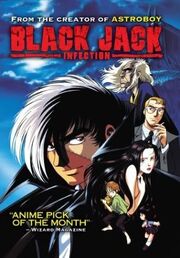 Black Jack
is an OVA based on the manga written by Osamu Tezuka. Ten OVAs were made (six of which, along with the movie, were originally only available in dub-only VHS form in North America, but all 10 OVAs have since been released on bilingual Region 1 DVD). Wizard selected the series as their "Anime Pick of the Month" for August 1997, calling it "one of the darkest and hardest-hitting made-for-video series of recent years."
English Voice Cast
Main Cast
Secondary Cast
Minor Cast
Uncredited
Ad blocker interference detected!
Wikia is a free-to-use site that makes money from advertising. We have a modified experience for viewers using ad blockers

Wikia is not accessible if you've made further modifications. Remove the custom ad blocker rule(s) and the page will load as expected.