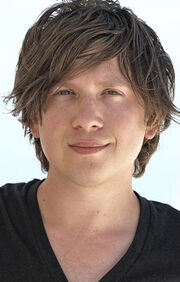 Blake Shepard
(born July 23, 1984 in Houston, Texas) is an American animator, visual artist and voice actor working on ADV Films and Seraphim Digital titles. He is also lead singer and guitarist in a band called Electric Attitude.
Shepard is known for voicing Akito/Agito in Air Gear, Leonard Tesatarosa in Full Metal Panic! The Second Raid, Akiyuki Takehara in Xam'd: Lost Memories, Yuzuru Otonashi in Angel Beats!, and Luke Ainsworth in The Sacred Blacksmith.
Anime Voice Work
Anime - Dubbing
Movies - Dubbing
OVA - Dubbing
Web Anime - Dubbing
Trivia
Number of VA titles on this wiki: (113)
Ad blocker interference detected!
Wikia is a free-to-use site that makes money from advertising. We have a modified experience for viewers using ad blockers

Wikia is not accessible if you've made further modifications. Remove the custom ad blocker rule(s) and the page will load as expected.