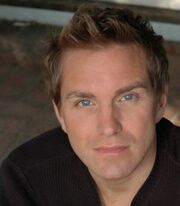 Brian Keith Beacock
(born March 29, 1966 in Hayward, California, USA) is an American television and film actor and a voice actor.
He's known for voicing Byonko in Zatch Bell!, Renzō Shima in Blue Exorcist, Rivalz Cardemonde in Code Geass: Lelouch of the Rebellion, Takato Matsuki in Digimon: Digital Monsters, Walker Yumasaki in Durarara!!, Yamato Delgado in Battle B-Daman and Yumichika Ayasegawa in Bleach.
Filmography
Anime
Audio Drama
Movies
OVA
Trivia
Number of VA titles on this wiki: (38)
Ad blocker interference detected!
Wikia is a free-to-use site that makes money from advertising. We have a modified experience for viewers using ad blockers

Wikia is not accessible if you've made further modifications. Remove the custom ad blocker rule(s) and the page will load as expected.