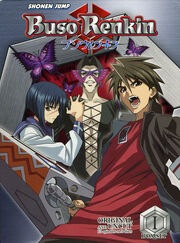 Buso Renkin is an Anime based on the Manga created by Nobuhiro Watsuki. The series is directed by Takao Kato and produced by Xebec. It originally runned from October 4, 2006 to March 28, 2007. The English dubbed version is produced by Viz Media.
English Voice Cast
Uncredited
Ad blocker interference detected!
Wikia is a free-to-use site that makes money from advertising. We have a modified experience for viewers using ad blockers

Wikia is not accessible if you've made further modifications. Remove the custom ad blocker rule(s) and the page will load as expected.