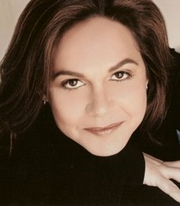 Candi Milo
(born January 9, 1966) is an American voice actress and singer.
Filmography
Animation
ChalkZone - Snap White, Ant (ep13), Baby (ep2), Baker#2 (ep11), Blocky (ep1), Bruno Bullnerd, Bullynerd (ep1), Canary (ep1), Cute Lady (ep14), Dancing Girl (ep11), Flat Person (ep14), Lips (ep11), Margaret (ep13), Mom (ep3), Order Box (ep2), Reggie Bullnerd, Smooch Bird (ep12), Snapbull (ep40), Spy Fly (ep13), Swimmer (ep2), Turtle (ep40)
Anime
Ninja Scroll - Kugutsu (ep11), Little Girl (ep11), Rengoku (ep8), Takuma (ep6), Zofu as Young Boy (ep9)
Movies
Trivia
Number of VA titles on this wiki: (3)
Ad blocker interference detected!
Wikia is a free-to-use site that makes money from advertising. We have a modified experience for viewers using ad blockers

Wikia is not accessible if you've made further modifications. Remove the custom ad blocker rule(s) and the page will load as expected.