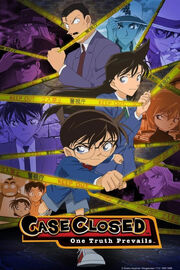 Case Closed
is an Anime based on the Meitantei Conan (名探偵コナン) manga series by Gosho Aoyama. The series is directed by Kenji Kodama and Yasuichiro Yamamoto and produced by TMS Entertainment and Yomiuri Telecasting Corporation. Case Closed has aired since January 8, 1996 on Nippon Television Network System in Japan and is currently ongoing. It has aired over 600 episodes in Japan making it the eleventh longest running anime series.
In 2003, the first 104 episodes of the regular animation series were licensed by FUNimation Entertainment for distribution in North America. Case Closed debuted on Cartoon Network as part of their Adult Swim programming block on May 24, 2004; no more than 50 episodes were licensed from Funimation due to low ratings. A separate English adaptation of the series by Animax Asia premiered in the Philippines on January 18, 2006. Because Animax were unable to obtain further TV broadcast rights, their version comprised 52 episodes.
Episodes
English Voice Cast
Main Cast
Secondary Cast
Minor Cast
Additional Voices
Ad blocker interference detected!
Wikia is a free-to-use site that makes money from advertising. We have a modified experience for viewers using ad blockers

Wikia is not accessible if you've made further modifications. Remove the custom ad blocker rule(s) and the page will load as expected.