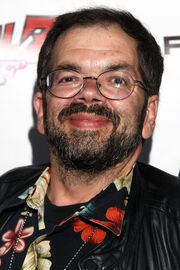 Christopher Owen Ayres
(born on May 16, 1965) is an American voice actor who works for ADV Films, FUNimation Entertainment and Seraphim Digital. He is the older brother of
Greg Ayres
.
He is known for his roles as Frieza in Dragon Ball Z Kai and Soma Asman Kadar in Black Butler.
He's also known as: NIJ.
Animation Voice Work
Animation - Dubbing
Anime Voice Work
Anime
AKB0048 - Nagisa's Father, Additional Voices
AKB0048 Next Stage - Lieutenant (ep5), Nagisa's Father, Researcher (ep2), Sensei Sensei, Additional Voices
Air - Attacker (ep7), Guards (ep8), Monk Soldier C (ep8), Monks (ep9), Priest (ep9), Pursuers (ep8), Soldiers (ep9)
Air Gear - Okuhira, Onigiri's Dad (ep3), Plugman, Potemkine, Additional Voices
Akame ga Kill! - Bandit (ep10), Bill (ep17), Daidara, Additional Voices
Amnesia - Toma
Another - Yousuke, Additional Voices
Aoharu x Machinegun - Additional Voices
BECK: Mongolian Chop Squad - Additional Voices
B Gata H Kei: Yamada's First Time - Monk (ep8)
Beyond the Boundary - Additional Voices
Birdy the Mighty: Decode - Bacillus
Black Bullet - Matsuzaki
Black Butler - Soma Asman Kadar, Additional Voices
Black Butler: Book of Circus - Soma Asman Kadar
Black Butler II - Soma Asman Kadar
Blue Drop - Classics Teacher (ep2), Lieutenant, Michiko's Father, Thug 3 (ep4), Van Driver (ep7), Additional Voices
Bodacious Space Pirates - Captain Ten, Witherspoon
Btooom! - Yoshihisa Kira (ep4)
Campione! - Dead Servitor B (ep7), Man C (ep2), Narrator
CANAAN - Old Man, Additional Voices
Chaika - The Coffin Princess: Avenging Battle - Additional Voices
Clannad: After Story - Umpire (ep1)
Claymore - Dauf
D.Gray-Man - Sofia's Father (eps 33-34)
DRAMAtical Murder - Bonjin-kun
Darker than Black - Masashi Hitotsubashi
Desert Punk - Sawada, Additional Voices
Diamond Daydreams - Kenji Kurata
Dragon Ball Z Kai - Frieza
Dream Eater Merry - John Doe, Yui's Father (ep8)
Dusk Maiden of Amnesia - Village Chief Elder (ep10), Additional Voices
Eden of the East - Additional Voices
ef - a tale of memories - Member B
El Cazador de la Bruja - Sanchez (ep8)
Elfen Lied - Detective A, Police Officer A (ep9), SAT A (ep12), SWAT B (ep10), Sharpshooter (ep1)
Fairy Tail - Duke Everlue
From the New World - Additional Voices
Full Metal Panic! The Second Raid - Wraith, Additional Voices
Full Metal Panic? Fumoffu - Atsunobu Hayashimizu, Additional Voices
Fullmetal Alchemist: Brotherhood - Raven
Gantz - Kei Kurono
Gatchaman Crowds - Additional Voices
Gatchaman Crowds insight - Additional Voices
Ghost Hound - Takahito Komagusu
Ghost Hunt - Reimei Minami
Girls und Panzer - Yukari's Dad (ep5), Additional Voices
Gravion Zwei - Ivan, Additional Voices
Gunslinger Girl: Il Teatrino - Lt. Colonel (ep9)
Hakkenden: Eight Dogs of the East - Bungobei Inuta, Man of the Village Office (ep6), Shoichi (ep11), Village Mayor (ep7), Additional Voices
Hakuōki: Dawn of the Shinsengumi - Iesato (ep6), Tonouchi, Additional Voices
Hakuōki: Demon of the Fleeting Blossom - Rogue Samurai (ep1), Additional Voices
Hakuōki: Record of the Jade Blood - Fury (ep8), Ikunosuke Arai (ep9), Katamori Matsudaira (ep7), Kiyotaka Kuroda (ep10), Additional Voices
Hamatora: The Animation - Additional Voices
HaNaYaMaTa - Additional Voices
High School of the Dead - Yoshioka, Additional Voices
Hiiro no Kakera: The Tamayori Princess Saga: Second Chapter - Drowned Gods, God (ep13), Male B (ep2), Small God (ep1)
IS: Infinite Stratos - Dan Gotanda (ep13)
Initial D: First Stage - Miki (ep7)
Initial D: Second Stage - Additional Voices
Innocent Venus - Dr. Nobuto, Riki, Terrorist Leader (ep2), Additional Voices
Is It Wrong to Try to Pick Up Girls in a Dungeon? - Gareth Landrock
Kaleido Star - Billy, Charlie, Mike Abbot (ep34), Mr. Patrova (ep39), Performer (ep39), Troupe Leader (ep45)
Kanon - Classmates (eps2-3), Demons (eps13, 15), Irving (ep6), Man 2 (Ep1), Track Girls (ep2), TV Freakout B (ep12), Additional Voices
Kenichi: The Mightiest Disciple - Daimonji
Kino's Journey - Bartender (ep11), Man A (ep13)
Kokoro Connect - Inaba's Brother, Additional Voices
Linebarrels of Iron - Additional Voices
Little Busters! - Sho Saigusa, Soccer Club Captain (ep25), Teacher (ep19), Additional Voices
Log Horizon - Brigandia Jerk (ep3), Confused Adventurer (ep11), Eijiro, Food Selling Wimp (ep1), Hamelin Guy (ep8), Herald (ep11), Hungry Folk (ep7), Knight (ep13), Noble (ep13), Nobleman Bald, Shigeru, Woodstock
Log Horizon 2 - Woodstock
Madlax - Citizens, Commander (ep23), Enfant (ep26), Forensics Officer (ep4), Galza Commander (ep22), Man (ep24), Soldier Aplenty (ep24), Soldier Yessir (ep1), Soldiers, The Dead (ep23)
Magical Warfare - Additional Voices
Majikoi - Oh Samurai Girls - Jun Inoue
Mayo Chiki! - Game Referee (ep10), Sakamichi Jiro (ep3), Shooting Range Owner (ep8), Video Game Announcer (ep9), Additional Voices
Medaka Box: Abnormal - Shigusa Takachido, Additional Voices
Mezzo DSA - Baba (ep7), Hanamura (ep12), Motoharu (ep1), Taneri (ep4), Thug (ep2), Truck Driver (ep3), Additional Voices
Monthly Girls' Nozaki-kun - Drama Club (ep8), Mr. Aoki (ep2), Rumor Mill (ep12)
Moonlight Mile - Ahmad (ep4), Bogdanovich (ep5), Joseph Vilsmaier (ep8), Oscar Eisenstein (ep12), Additional Voices
Mysterious Girlfriend X - Additional Voices
Needless - Baku (ep17), Ishiyama, Nivvy (ep1), President (ep6), Researcher, Robert (ep7), Satoru (ep10)
Ōkami-san and her Seven Companions - Jin Hanasaki (ep7), Additional Voices
One Piece - Johnny, Mr. 11 (ep79), Additional Voices
Ouran High School Host Club - Renge's Father (ep4)
Panty & Stocking with Garterbelt - Corset
Papuwa - Oshodani, Evil Cocoa Queen (ep19)
Parasyte -the maxim- - Councilman (ep10), Old Guy (ep15), Parasite (ep12), Pervert (ep3), Vice Principal
Peacemaker Kurogane - Keisuke Yamanami
Phi-Brain: Puzzle of God - Crew A (ep11), Dwarves (ep9), Freecell, Funga, Manager (ep10)
Problem Children Are Coming from Another World, Aren't They? - Graeae, Jack O'Lantern, Kraken, Strom (ep8), Additional Voices
Rideback - Additional Voices
Romeo x Juliet - Camillo
Say "I love you." - Marshmallow (ep1), Additional Voices
Sekirei: Pure Engagement - Additional Voices
Sengoku Basara: Samurai Kings - Takeda Shingen
Sengoku Basara: Samurai Kings 2 - Takeda Shingen
Sgt. Frog - 3M (ep11), Additional Voices
Shadow Skill - Lao (ep16), Solfan Spy (ep8), Waiter (ep8), Additional Voices
Shin-chan - Additional Voices
Shining Hearts - Priest, Vence (ep4), Additional Voices
Spice and Wolf - Assessor, Additional Voices
Tactics - Kitahara (ep7), Koishikawa (ep14), Ryokan Hasumi, Additional Voices
Tears to Tiara - Arthur
The Ambition of Oda Nobuna - Kinoshita Toukichirou (ep1), Saito Yoshitatsu, Additional Voices
The Book of Bantorra - Minth Chezain
The Wallflower - George, Restaurateur (ep24), Additional Voices
The World God Only Knows - Ichirō Kodama
Trinity Blood - Butler (ep3), Isaak Fernando von Kämpfer, Noble B (ep18)
Tsubasa: RESERVoir CHRoNiCLE - Nanto
Tsuritama - Boss, Akira's Minion, Duckmen, Additional Voices
Xenosaga: The Animation - Jin Uzuki, Additional Voices
Anime Shorts
Movies
5 Centimeters Per Second - Additional Voices (2008 ADV Dub)
A Tree of Palme - Sawadust, Additional Voices
Air: The Motion Picture - Bartender Pops, Drummers, Festival Crowd, Guards, School Teacher
Appleseed - Elder
Case Closed: The Last Wizard of the Century - Sergei Ovchinnikov
Clannad ~The Motion Picture~ - Store Owner, Additional Voices
Colorful - Classmates, Principal
Dragon Ball Z: Resurrection "F" - Frieza
Evangelion: 2.0 You Can (Not) Advance - Additional Voices
Gatchaman: The Movie - Captain
Gintama: The Movie - Amanto Captain, Attendant, Kamui, Ner, Ronin, Taizo Hasegawa, Tatsuma Sakamoto, Underling, Watchman
Initial D: Third Stage - Miki
Mardock Scramble: The First Compression - Welldone the Pussyhand
Mardock Scramble: The Second Combustion - Business Suit Man, Man's Voice
Mardock Scramble: The Third Exhaust - Man, Additional Voices
Sengoku Basara: The Last Party - Takeda Shingen
Space Pirate Captain Harlock - Gaia Coalition
Summer Wars - Additional Voices
OVA
Web Anime
Live-Action Voice Work
Movies - Dubbing
Video Games
Video Games
Video Games - Dubbing
Trivia
Number of VA titles on this wiki: (151)
Ad blocker interference detected!
Wikia is a free-to-use site that makes money from advertising. We have a modified experience for viewers using ad blockers

Wikia is not accessible if you've made further modifications. Remove the custom ad blocker rule(s) and the page will load as expected.