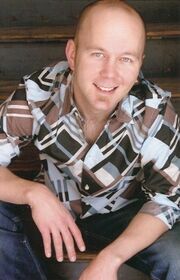 Christopher Robin Sabat
(born April 22, 1973 in Washington, D.C.) is an American voice actor, ADR director and line producer for FUNimation Entertainment.
He's known for voicing Alex Louis Armstrong in Fullmetal Alchemist, Giroro in Sgt. Frog, Kazuma Kuwabara in YuYu Hakusho: Ghost Files, Kikuchiyo in Samurai 7, Roronoa Zoro in One Piece and Vegeta, Piccolo and Yamcha in the Dragon Ball franchise, He is often casted as tough guy characters due to his deep and rough voice.
Filmography
Anime
Anime Shorts
Anime Specials
Movies
OVA
TV Specials
Video Games
Web Anime
Trivia
Number of VA titles on this wiki: (233)
Ad blocker interference detected!
Wikia is a free-to-use site that makes money from advertising. We have a modified experience for viewers using ad blockers

Wikia is not accessible if you've made further modifications. Remove the custom ad blocker rule(s) and the page will load as expected.