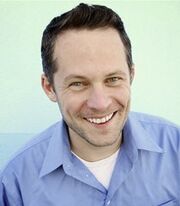 Chuck Huber
(born May 8, 1971 in Chicago, Illinois) is an American voice actor, ADR director and script writer working for FUNimation Entertainment, OkraTron 5000 and Seraphim Digital.
He has also worked in the education field as a workshop leader, teacher and Principal for 20 years in a variety of settings from Southern Methodist University's Cox School of Business to Owerri, Nigeria; as a founder, consultant or board member for 5 different schools, and as an author of numerous articles for education periodicals, children's books, plays and screenplays. Chuck currently serves as a Board member for Stage West in Fort Worth, Texas.
He's known for voicing Android#17 in the Dragon Ball Franchise, Dr. Franken Stein in Soul Eater, Hiei in YuYu Hakusho: Ghost Files and Kululu in Sgt. Frog.
Filmography
Anime - Dubbing
Anime Shorts - Dubbing
Anime Specials - Dubbing
Movies - Dubbing
OVA - Dubbing
Web Animation
Web Anime - Dubbing
Trivia
Number of VA titles on this wiki: (196)
Ad blocker interference detected!
Wikia is a free-to-use site that makes money from advertising. We have a modified experience for viewers using ad blockers

Wikia is not accessible if you've made further modifications. Remove the custom ad blocker rule(s) and the page will load as expected.