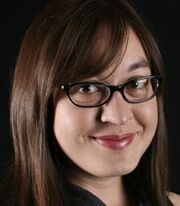 Clarine Harp
(born January 5, 1978 in Dallas, Texas) is an American voice actress, Blu-ray and DVD producer and production assistant who works for FUNimation Entertainment.
Filmography
Anime
A Certain Magical Index - Himegami's Mother (ep9)
A Certain Scientific Railgun S - Voice (ep8)
Aquarion - Esperanza (ep15)
Assassination Classroom: Second Season - News Reporter (ep3)
BECK: Mongolian Chop Squad - Kayo, Additional Voices
B Gata H Kei: Yamada's First Time - Additional Voices
Baka and Test: Summon the Beasts - Additional Voices
Baki the Grappler - Nurse (ep22)
Bamboo Blade - Shop Owner, Additional Voices
Birdy the Mighty Decode:02 - Marionette (ep13)
Blood-C - Additional Voices
Burst Angel - Sei
Case Closed - Famke Hotta (ep44), Michelle Hamlin (ep13), Nancy Schmidt
Casshern Sins - Helene (ep19)
Cat Planet Cuties - Sara
Chaos;Child - Sena Aoi (ep1)
Chaos;HEAd - Sena Aoi
Chrome Shelled Regios - Dalsiena Che Matelna
Claymore - Undine, Additional Voices
Corpse Princess - Mizuki Inuhiko
D.Gray-Man - Isabella (ep31), Mahoja, Additional Voices
Dance in the Vampire Bund - Nicole Edelman (ep4)
Danganronpa 3: The End of Hope's Peak High School - Despair Arc - Peko Pekoyama
Desert Punk - Mother
Eden of the East - Additional Voices
El Cazador de la Bruja - Jody "Blue-Eyes" Hayward
Fullmetal Alchemist - Mrs. Armstrong (ep37), Additional Voices
Fullmetal Alchemist: Brotherhood - Mrs. Armstrong (ep45)
Gangsta. - Gina Paulklee
Ghost Hunt - Teruka Yoshimi (ep22)
Heaven's Lost Property - Harpy (ep13)
Heaven's Lost Property: Forte - Harpy
Hell Girl - Additional Voices
Jormungand - Chequita (ep5)
Jormungand: Perfect Order - Chequita
Jyu-Oh-Sei - Chen
Kamisama Kiss - Additional Voices
Kaze no Stigma - Izumi Kurahashi
Kiddy Grade - Tweedledee
Last Exile: Fam, The Silver Wing - Tatiana Wisla
Michiko & Hatchin - Elis
Mikagura School Suite - Eruna's Mom
Negima! Magister Negi Magi - Kaede Nagase/Student No.20
Negima!? Magister Negi Magi - Kaede Nagase/Student No.20
Noragami: Aragoto - Oshi (ep10)
Oh! Edo Rocket - Additional Voices
One Piece - Banchina (ep17), Miss Monday, Ran, Additional Voices (FUNimation Dub)
Ouran High School Host Club - Tsubaki Kamigamo
Panty & Stocking with Garterbelt - Kitakawa (ep5B)
Peach Girl - Female Patient B (ep4)
Phantom: Requiem for the Phantom - Additional Voices
Princess Jellyfish - Additional Voices
RIN ~Daughters of Mnemosyne~ - Laura
Riddle Story of Devil - Kouko Kaminaga
Romeo x Juliet - Lancelot's Wife, Additional Voices
Samurai 7 - Sanae
Sekirei - Haihane
Sekirei: Pure Engagement - Haihane
Sgt. Frog - Asami's Mother (ep16), Additional Voices
Shakugan no Shana II (Second) - Tiamat
Shakugan no Shana III (Final) - Tiamat
Shangri-La - Ayako, Additional Voices
Shiki - Fujiyo Takano (ep6)
Shin-chan - Miss Katz
Space Patrol Luluco - Additional Voices
Spice and Wolf II - Adele Cole (ep3)
Spiral - Takako Adachi (ep2), Additional Voices
Strike Witches 2 - Nishiki Nakajima (ep12)
The Sacred Blacksmith - Evadne
The Tower of Druaga: The Sword of Uruk - Gremica
Trinity Blood - Colonel Mary Spencer
Unbreakable Machine-Doll - Shoko Karyusai
We, Without Wings - Under the Innocent Sky. - Mother (ep12), Store Manager (ep4)
Witchblade - Asagi
YuYu Hakusho: Ghost Files - Kokou (ep104), Natsume (ep105), Ryuuhi, Additional Voices
Anime Specials
Movies
OVA
Web Anime
Trivia
Number of VA titles on this wiki: (91)
Ad blocker interference detected!
Wikia is a free-to-use site that makes money from advertising. We have a modified experience for viewers using ad blockers

Wikia is not accessible if you've made further modifications. Remove the custom ad blocker rule(s) and the page will load as expected.