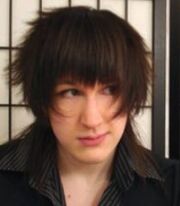 Clint Bickham
is an American voice actor and ADR script writer for ADV Films, FUNimation Entertainment and Seraphim Digital. He is also a manga writer for Tokyopop.
Anime Voice Work
Anime - Dubbing
Air Gear - Kazuma "Kazu" Mikura
Akame ga Kill! - Nyau
Amagi Brilliant Park - Wanipee, Additional Voices
Another - Yuuya Mochizuki
Aoharu x Machinegun - Additional Voices
Beyond the Boundary - Akihito Kanbara
Black Bullet - Hidehiko Gado
Bodacious Space Pirates - Junige Coolph (ep18), Additional Voices
Chivalry of a Failed Knight - Ikki Kurogane
Clannad - Baseball Team Member (ep18), Basketball Club Member (ep16), Guy at Store (ep23), Punk (ep17), Students, Tennis Team Captain (ep18)
Clannad: After Story - Company Employee, Rival Team (ep1), Soccer Team Player (ep4), The Gang (eps7-8), Additional Voices
DRAMAtical Murder - Sei, Usui
Diamond Daydreams - Weenie Boyfriend (ep6)
Dream Eater Merry - Dream Demon (ep10), Masaru (ep7), Additional Voices
Dusk Maiden of Amnesia - Teiichi Niiya
ef - a tale of melodies - Renji Asou
ef - a tale of memories - Renji Asou
Food Wars! - Isami Aldini
From the New World - Shun Aonuma
Fullmetal Alchemist: Brotherhood - Additional Voices
Garo: The Crimson Moon - Additional Voices
Gatchaman Crowds - O.D.
Gatchaman Crowds insight - O.D.
GATE - Ruflus
Ghost Hound - Taro Komori
Gravion - Takasu, Additional Voices
Gravion Zwei - Takasu, Additional Voices
Guyver: The Bioboosted Armor - Additional Voices
Hakuōki: Demon of the Fleeting Blossom - Kashitaro Itou, Fury (ep1), Additional Voices
Hakuōki: Record of the Jade Blood - Keisuke Otori, Kashikura (ep7), Additional Voices
Hamatora: The Animation - Atami, Koichi Shiratori (ep7), Shinji Toyosaki (ep1)
Horizon in the Middle of Nowhere II - Nicholas Bacon
Kino's Journey - Shizu
Kokoro Connect - Yoshifumi Aoki
Little Busters! - Aikawa (ep20), Additional Voices
Log Horizon 2 - Loreile Dawn
Magical Warfare - Gekko Nanase
Maid Sama! - Shoichiro Yukimura
Maria†Holic: Alive - Rindo Shinouji
Medaka Box: Abnormal - Kei Munakata
Monthly Girls' Nozaki-kun - Art Club (ep7), Beach Bro (4th Special), Confused Student (ep8), Drama Club (ep10), Roach Boy (ep1), Rumor Mill (ep12), Seo's Victim, Video Game Protagonist (ep4)
Mysterious Girlfriend X - Additional Voices
NAKAIMO - My Little Sister Is Among Them! - Shogo Mikadono
No Matter How I Look at It, It's You Guys' Fault I'm Not Popular! - Suzuki, Additional Voices
Nobunaga the Fool - Uesugi Kenshin
Ōkami-san and her Seven Companions - Additional Voices
One Piece - Adult Littonto (ep219), Additional Voices
Outbreak Company - Officer Horny, Toshiyuki
Papuwa - Baby Snail, Bat (ep15), Brown Pelican, Chestnut (ep18), Crabby McCrab (ep13), Fishie, Hamster, Lobster, Mole (ep15), Moustache Punk (ep5), Pelican, Sassy Pelican, Skeleton Warrior (ep15), Tama
Parasyte -the maxim- - Cat Torturer (ep2), Student (ep10), Yakuza (ep11)
Phi-Brain: Puzzle of God - Audience Problems (ep18), Blubbering Fan (ep19), Naoki Takeda, Rat Monster (ep11), Student (ep21), Additional Voices
Problem Children Are Coming from Another World, Aren't They? - Laius's Attendant, Additional Voices
S・A: Special・A - Yahiro Saiga, Takashima's Dad, Additional Voices
Say "I love you." - Masashi Tachikawa
Sgt. Frog - Additional Voices
Shattered Angels - Additional Voices
Sunday Without God - Fancy Performer, Hardy
The Ambition of Oda Nobuna - Sagara Yoshiharu
The Book of Bantorra - Colio, Additional Voices
The Heroic Legend of Arslan: Dust Storm Dance - Additional Voices
The Wallflower - Akira, Hat Assistant (ep5), M.C., Additional Voices
Tsuritama - Haru
Xenosaga: The Animation - chaos
Movies - Dubbing
OVA - Dubbing
Web Anime - Dubbing
Trivia
Number of VA titles on this wiki: (75)
Ad blocker interference detected!
Wikia is a free-to-use site that makes money from advertising. We have a modified experience for viewers using ad blockers

Wikia is not accessible if you've made further modifications. Remove the custom ad blocker rule(s) and the page will load as expected.