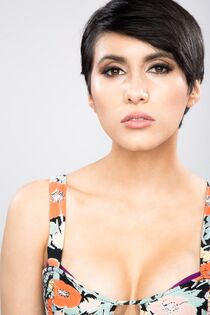 Cristina Valenzuela
(born on July 11, 1987 in Norwalk, California, United States), known by her stage name
Cristina Vee
, is an American voice actress and singer. She is most known for Mio Akiyama in 
K-On!
, Homura Akemi in
Puella Magi Madoka Magica
, Alisa Boconovitch in
Tekken: Blood Vengeance
, Nanoha Takamichi in Magical Girl Lyrical Nanoha, Louise Françoise Le Blanc de La Vallière in
The Familiar of Zero
, Killua Zodldyck in
Hunter × Hunter
, Hawk in
The Seven Deadly Sins
, Velvet Crowe in
Tales of Zestiria the X
and the Honoka sisters in
Knights of Sidonia
.
Filmography
Anime
Anime Shorts
Anime Specials
Movies
OVA
Web Anime
Trivia
Number of VA titles on this wiki: (67)
Ad blocker interference detected!
Wikia is a free-to-use site that makes money from advertising. We have a modified experience for viewers using ad blockers

Wikia is not accessible if you've made further modifications. Remove the custom ad blocker rule(s) and the page will load as expected.