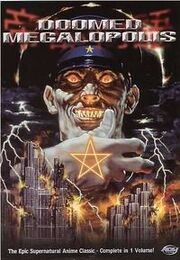 Doomed Megalopolis
(帝都物語) is a supernatural/dark fantasy anime. It is an adaptation of the historical fantasy novel Teito Monogatari by Hiroshi Aramata. The anime is darker, more violent and sexualized than any previous adaptations of the novel; an artistic decision probably inspired by the financial success of the OVA Legend of the Overfiend.
It was released by Toei in 1991 as a 4-part OVA. In 1995, ADV Films gained the rights to the anime and released it on a four-volume cassette series in the US, under the title Doomed Megalopolis. In 2001, ADV re-released the entire series on a 2-Disc DVD edition. Eventually, ADV gathered the rights to the original Japanese voices, and in 2003, re-released an enhanced version entitled Doomed Megalopolis: Special Edition.
Japanese Voice Cast
English Voice Cast
Ad blocker interference detected!
Wikia is a free-to-use site that makes money from advertising. We have a modified experience for viewers using ad blockers

Wikia is not accessible if you've made further modifications. Remove the custom ad blocker rule(s) and the page will load as expected.