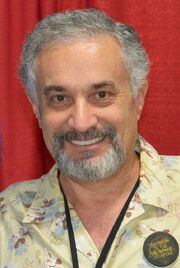 Douglas David Stone
(born December 27, 1950 in Toronto, Ontario Canada) is an American voice actor.
Filmography
Animation
Anime
Anime Shorts
Movies
OVA
TV Series
Video Games
Atelier Rorona: The Alchemist of Arland - Ludwig Giovanni Arland
Casper: Spirit Dimensions - Additional Voices
Culdcept Saga - Additional Voices
Dawn of Mana - Watts
Dynasty Tactics 2 - Additional Voices
Dynasty Warriors: Strikeforce - Xu Zhu, Zhang Jiao
Eternal Poison - King Valdus
Fist of the North Star: Ken's Rage - Enemy Soldier
Grandia III - Game Referee, Pilot B, Terrarium Elder
Kessen III - Katsuie Shibata, Kanbei Kuroda, Yoshimoto Imagawa
Majin and the Forsaken Kingdom - Animals
ObsCure - Mr. Walden
ParaWorld - Taslov
Pryzm Chapter One: The Dark Unicorn - Karrock, Narrator, Old Unicorn
Quest for Glory V: Dragon Fire - Abdull, Arestes, Gort, Ugarte, Wolfie
Radiata Stories - Male Knight, Zane
Romancing SaGa - Avis, Wuhan, Additional Voices
Sakura Wars: So Long, My Love - Hotel Manager, Wong Xingzhi
Samurai Champloo: Sidetracked - Antonioni
Samurai Warriors - Chuukou Shimozuma, Ieyasu Tokugawa, Shoukei
Star Trek: 25th Anniversary - Prelate Angiven, Tloaxac
Star Trek: Judgement Rites - Cicisso, Jakesey, Schiller
Star Trek: Shattered Universe - Additional Voices
Suikoden IV - Setsu
Suikoden V - Boz Wilde, Chuck, Dangerous Man
Warriors Orochi - Gan Ning, Zhang Jiao, Xu Zhu
Warriors Orochi 2 - Zhang Jiao, Gan Ning, Xu Zhu
Other Voice Work
Trivia
Number of VA titles on this wiki: (182)
Ad blocker interference detected!
Wikia is a free-to-use site that makes money from advertising. We have a modified experience for viewers using ad blockers

Wikia is not accessible if you've made further modifications. Remove the custom ad blocker rule(s) and the page will load as expected.