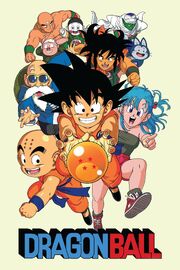 Dragon Ball
is the first in a trilogy of anime adaptations of the Dragon Ball manga series by Akira Toriyama. Produced by Toei Animation, the anime series premiered in Japan on Fuji Television on February 26, 1986, and ran until April 12, 1989. Spanning 153 episodes, it covers the first 194 chapters of the 519 chapters-long manga series. It is followed by
Dragon Ball Z
, which covers the remainder of the manga, and
Dragon Ball GT
, the plot of which was created solely for the anime.
Harmony Gold USA licensed the series for an English-language release in North America in the late 1980s. In the voice dubbing of the series, Harmony renamed almost all of the characters, including the protagonist Goku, who was renamed "Zero." This dub was cancelled shortly after being test marketed in several cities and was never broadcast to the general public, thus earning the fan-coined term "The Lost Dub."
In 1995, Funimation Entertainment acquired the license for the distribution of Dragon Ball in the United States. They contracted BLT Productions to create an English version for the anime in Vancouver, Canada. The dubbed episodes were also edited for content. Thirteen episodes aired in first-run syndication during the fall of 1995 before Funimation canceled the project due to low ratings. Trimark Pictures later purchased the home video distribution rights for these dubbed episodes. In March 2001, Funimation announced the return of Dragon Ball to American television, featuring a new English version produced in-house with slightly less editing for broadcast, and they notably left the original background music intact, which was met with delight from fans. The re-dubbed episodes aired on Cartoon Network from August 20, 2001 to December 1, 2003. Funimation also broadcast the series on Colours TV and their own Funimation Channel starting in 2006. This English dub was also broadcast in Australia and New Zealand. In Canada and Europe, an alternative dubbed version was produced by AB Groupe and was aired in those territories instead of the Funimation version.
Dragon Ball used two pieces of theme music for the entire series. "Makafushigi Adventure!" by Hiroki Takahashi is used as the series opening theme, and Ushio Hashimoto's "Romantic Ageru Yo" is used as the ending theme.
Japanese Voice Cast
Main Cast
Role
Voice Actor
Character
文字
Japanese
文字
Secondary Cast
Role
Voice Actor
Character
文字
Japanese
文字
Minor Cast
Role
Voice Actor
Character
文字
Japanese
文字
English Voice Cast (2001 FUNimation Dub)
Main Cast
Secondary Cast
Additional Voices
Ad blocker interference detected!
Wikia is a free-to-use site that makes money from advertising. We have a modified experience for viewers using ad blockers

Wikia is not accessible if you've made further modifications. Remove the custom ad blocker rule(s) and the page will load as expected.