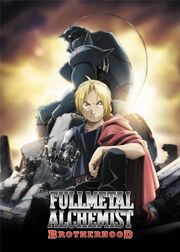 Fullmetal Alchemist: Brotherhood
is an Anime based on the manga written by Hiromu Arakawa. It's the second independent anime adaption developed by Bones. The series was directed by Yasuhiro Irie and written by Hiroshi Ōnogi. The series premiered in April 5, 2009 on MBS-TBS' Sunday 5:00 pm JST anime timeblock and ended in July 4, 2010.
The North American release was licensed by FUNimation Entertainment and the English dub of the series started it's airing on February 13, 2010 at midnight on Adult Swim.
Voice Cast
Main Cast
Episodes
Secondary Cast
Minor Cast
Additional Voices
Japanese
FUNimation
Theme Songs
Again (Opening 1) Sung by: Yui
Hologram (Opening 2) Sung by: Nico Touches the Walls
Golden Time Lover (Opening 3) Sung by: Sukima Switch
Period (Opening 4) Sung by: Chemistry
Rain (Opening 5) Sung by: Sid
Uso (Ending 1) Sung by: Sid
Let It Out (Ending 2) Sung by: Miho Fukuhara
Tsunaida Te (Ending 3) Sung by: Lil'B
Shunkan Sentimental (Ending 4) Sung by: Scandal
Ray of Light (Ending 5) Sung by: Shoko Nakagawa
Ad blocker interference detected!
Wikia is a free-to-use site that makes money from advertising. We have a modified experience for viewers using ad blockers

Wikia is not accessible if you've made further modifications. Remove the custom ad blocker rule(s) and the page will load as expected.