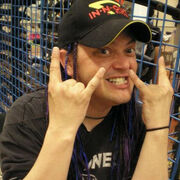 Greg Ayres
(born December 7, 1968 in Richmond, Virginia) is an American voice actor who works in ADV Films, FUNimation Entertainment and Seraphim Digital.
He's known for voicing Kaoru Hitachiin in Ouran High School Host Club, Negi Springfield in Negima! Magister Negi Magi, Monokuma in Danganronpa: The Animation, Nagisa Hazuki in Free! - Iwatobi Swim Club and Youhei Sunohara in Clannad.
He is the younger brother of voice actor Christopher Ayres.
Anime Voice Work
Anime - Dubbing
Anime Shorts - Dubbing
Movies - Dubbing
OVA - Dubbing
Web Anime - Dubbing
Trivia
Number of VA titles on this wiki: (204)
Links
Ad blocker interference detected!
Wikia is a free-to-use site that makes money from advertising. We have a modified experience for viewers using ad blockers

Wikia is not accessible if you've made further modifications. Remove the custom ad blocker rule(s) and the page will load as expected.