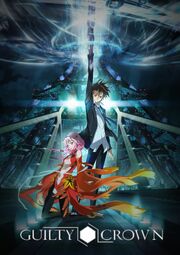 Guilty Crown
(ギルティクラウン) is a Japanese anime produced by Production I.G, the series was directed by Tetsurō Araki and written by Hiroyuki Yoshino. The series began airing in October 14, 2011 and ended it's run in March 22, 2012.
The first opening theme was "My Dearest" by supercell and the first ending was "Departures ~Anata ni Okuru Ai no Uta~" by EGOIST. The second opening and ending themes were "The Everlasting Guilty Crown" by EGOIST and "Kokuhaku" by supercell. The first insert song "Euterpe" by EGOIST for the opening sequence of episode 1. EGOIST (Chelly) also served as the singing voice of the character Inori Yuzuriha.
Voice Cast
Main Cast
Role
Voice Actor
Character
文字
Japanese
文字
Inori Yuzuriha
楪 いのり
Ai Kayano
茅野 愛衣
Shū Ōma
桜満 集
Yūki Kaji
梶 裕貴
Secondary Cast
Minor Cast
Additional Voices (Uncredited)
English Voice Cast
Main Cast
Secondary Cast
Minor Cast
Additional Voices
Ad blocker interference detected!
Wikia is a free-to-use site that makes money from advertising. We have a modified experience for viewers using ad blockers

Wikia is not accessible if you've made further modifications. Remove the custom ad blocker rule(s) and the page will load as expected.