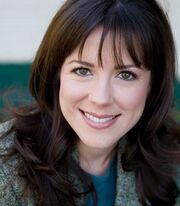 Hilary Haag Scarborough
(born on December 3, 1973 in Baytown, Texas) is an American voice actress working on ADV Films and Seraphim Digital titles. Her most notable role is Fuko Ibuki in
Clannad
.
Anime Voice Work
Anime - Dubbing
Air Gear - Shiraume Noyamano
All Purpose Cultural Cat Girl Nuku Nuku - Noriko Ishiyama, Additional Voices
Angel Beats! - Yui, Yuri's Sister (ep12)
Angelic Layer - Maria Shibata (ep7), Additional Voices
Aquarian Age: Sign for Evolution - Additional Voices
Area 88 - Ryoko Tsugumo, Additional Voices
Azumanga Daioh - Chihiro, Additional Voices
Battle Girls: Time Paradox - Ieyasu Tokugawa
Best Student Council - Kaori Izumi, Additional Voices
Blue Drop - Mari Wakatake
Bodacious Space Pirates - Coorie
Campione! - Yuri Mariya
CANAAN - Maria
Chaika - The Coffin Princess: Avenging Battle - Frederica
Chance Pop Session - Yuki Aoyama, Boy 2 (ep2)
Chivalry of a Failed Knight - Itsuki Kurogane, Onitama (ep9)
Clannad - Fuko Ibuki, Kid
Clannad: After Story - Fuko Ibuki, Additional Voices
Cyberteam in Akihabara - Tsubame Ōtorii, Petit Ange, Secretary, Additional Voices
D.N.Angel - Riku Harada
Demon King Daimao - Lily Shiraishi
Diamond Daydreams - Female Student (ep12)
Divergence Eve - Additional Voices
Dream Eater Merry - Merry Nightmare
ef - a tale of melodies - Mizuki Hayama
ef - a tale of memories - Mizuki Hayama
Excel Saga - Menchi, Anonymous Girl (ep8), Child (ep8), Child (ep13), Girl with Dog (ep8), Megumi (ep8), Miyo (ep5), Yukitchu (ep22), Additional Voices
Full Metal Panic! - Teletha Testarossa, Ai Tanabe, Flight Attendant, Madoka Tsuge (ep8), Additional Voices
Full Metal Panic! The Second Raid - Teletha Testarossa, Additional Voices
Full Metal Panic? Fumoffu - Teletha Testarossa, Additional Voices
Gasaraki - Misuzu Gowa
Ghost Hound - Chiho Shioda, Additional Voices
Ghost Stories - Satsuki Miyanoshita
Girls und Panzer - Katyusha
Gravion - Anya, Additional Voices
Gravion Zwei - Anya, Additional Voices
Hakuōki: Demon of the Fleeting Blossom - Princess Sen
Heaven's Memo Pad - Alice
Horizon in the Middle of Nowhere - Hanami, Kazuno
Hyakka Ryouran Samurai Girls - Yukimura Sanada
IS: Infinite Stratos - Huang Lingyin, Boy (ep11), Additional Voices
IS: Infinite Stratos 2 - Huang Lingyin
Inu X Boku: Secret Service - Ririchiyo Shirakiin
Is It Wrong to Try to Pick Up Girls in a Dungeon? - Liliruca Arde
Kaleido Star - May Wong
Kids on the Slope - Sachiko
Kill Me Baby - Yasuna Oribe
Kino's Journey - Lily (ep13)
Leviathan: The Last Defense - Bahamut
Log Horizon - Serara
Log Horizon 2 - Serara
Martian Successor Nadesico - Aqua (ep10), Yukina Shiratori
Medaka Box - Hansode Shiranui
Medaka Box: Abnormal - Hansode Shiranui
Mezzo DSA - Aya
Moonlight Mile - Chika Sawamura, Female Controller 1 (ep3), Isabelle Dougnac (ep3), Tracy Jefferson (ep3)
My Love Story!! - Additional Voices
Needless - Mio
Noir - Chloe
Pani Poni Dash! - Rebecca Miyamoto, Becky's Granddaughter (ep10)
Parasyte -the maxim- - Akiho Suzuki
Princess Nine - Ryo Hayakawa
Rozen Maiden Zurückspulen - Hinaichigo
S・A: Special・A - Sakura Ushikubo, Additional Voices
Shadow Skill - Kyuo Lyu
Shining Hearts - Melty (ep5)
SoniAni: Super Sonico the Animation - Ena Fujimi
Sorcerous Stabber Orphen - Dortin
Sorcerous Stabber Orphen: Revenge - Dortin, Miriam Bergman (Flashback; ep4), Additional Voices
Steel Angel Kurumi - Karinka
The Ambition of Oda Nobuna - Hachisuka Goemon
The Book of Bantorra - Lascall Othello (Female)
The Wallflower - Additional Voices
The World God Only Knows - Mio Aoyama, Shiori Shiomiya, Additional Voices
Those Who Hunt Elves - Rose (ep7), Suki (ep6)
Trinity Blood - Seth Nightroad
Xenosaga: The Animation - Kirschwasser
Anime Shorts - Dubbing
Movies - Dubbing
OVA - Dubbing
Web Anime - Dubbing
Live-Action Voice Work
Movies - Dubbing
Video Games
Video Games - Dubbing
Trivia
Number of VA titles on this wiki: (107)
Ad blocker interference detected!
Wikia is a free-to-use site that makes money from advertising. We have a modified experience for viewers using ad blockers

Wikia is not accessible if you've made further modifications. Remove the custom ad blocker rule(s) and the page will load as expected.