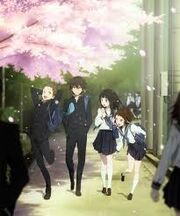 Hyōka
(氷菓) is an anime based on the mystery novel by Honobu Yonezawa. The anime was produced by Kyoto Animation and directed by Yasuhiro Takemoto. It began airing on April 22, 2012 and ended on September 22, 2012, consisting of 22 episodes and an extra episode. The first episode premiered on April 14 at a special event at Kadokawa Cinema, Shinjuku. The series was licensed for a home media release in English by FUNimation Entertainment, which is slated for a July 2017 release.
English Voice Cast
Main Cast
Secondary Cast
Minor Cast
Ad blocker interference detected!
Wikia is a free-to-use site that makes money from advertising. We have a modified experience for viewers using ad blockers

Wikia is not accessible if you've made further modifications. Remove the custom ad blocker rule(s) and the page will load as expected.