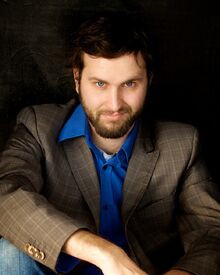 Ian Sinclair
(born March 2, 1984 in Dallas, Texas) is an American ADR director and voice actor for FUNimation Entertainment and Sentai Filmworks.
He's known for voicing: Toraji Ishida in Bamboo Blade, Douglas Rosenberg in El Cazador de la Bruja, Takeru Ooyama in Maken-Ki! Battling Venus, Brook in One Piece, Dandy in Space☆Dandy, Toriko in Toriko, Whis in Dragon Ball Super and Yu Kanda in D.Gray-Man.
Anime Voice Work
Anime - Dubbing
Anime Shorts - Dubbing
Anime Specials - Dubbing
Movies - Dubbing
OVA - Dubbing
Web Anime - Dubbing
Trivia
Number of VA titles on this wiki: (237)
Ad blocker interference detected!
Wikia is a free-to-use site that makes money from advertising. We have a modified experience for viewers using ad blockers

Wikia is not accessible if you've made further modifications. Remove the custom ad blocker rule(s) and the page will load as expected.