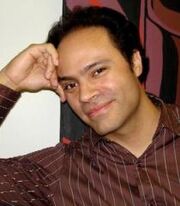 Illich Guardiola
is a former American voice actor who used to work on ADV Films, FUNimation Entertainment and Seraphim Digital titles. He is the ex-husband of voice actress
Kaytha Coker
.
Animation Voice Work
Animation - Dubbing
Michel - Boris' Friend (ep12), Driver (ep14), Serju
Anime Voice Work
Anime - Dubbing
AKB0048 - Ushiyama
AKB0048 Next Stage - Ushiyama
Air Gear - Kaito Wanijima
All Purpose Cultural Cat Girl Nuku Nuku - Additional Voices
Angel Beats! - Takamatsu (eps8-13), Char
Another - Katsumi Matsunaga
Area 88 - Saki Vashtar
Casshern Sins - Jin (ep11), Additional Voices
Clannad - Yusuke Yoshino
Clannad: After Story - Yusuke Yoshino
Cyberteam in Akihabara - Additional Voices
D.N.Angel - Krad
Devil Survivor 2: The Animation - Anguished One, Additional Voices
Dream Eater Merry - Chris Evergreen, YOKATO (ep5)
ef - a tale of melodies - Shuichi Kuze
ef - a tale of memories - Shuichi Kuze
Excel Saga - Bandmember C (ep21), Kodachu (ep22), Mutant (ep23), Nanbara (ep5), The Fab Sounds of the Mohawks (ep26), Additional Voices
From the New World - Dr. Tsuchida (ep12), Niimi (ep11), Additional Voices
Full Metal Panic! - Zaied, Additional Voices
Full Metal Panic? Fumoffu - Music Club Leader (ep11), Additional Voices
Gantz - Masaru Kato
Gasaraki - Einyo, F/Phantom, Journalist (ep3), Additional Voices
Generator Gawl - Announcer, Camera Crew (ep11)
Ghost Hound - Masato Kaibara/Snark, Tashiro (Principal; ep1)
Ghost Stories - Reiichirou Miyanoshita
Guyver: The Bioboosted Armor - Enzyme Researcher, Toshiaki Hayami/Bio-Freezer, Additional Voices
Hakkenden: Eight Dogs of the East - Keno Inusuka, Asakeno (ep6)
Hakuōki: Dawn of the Shinsengumi - Sanosuke Harada
Hakuōki: Demon of the Fleeting Blossom - Sanosuke Harada
Hakuōki: Record of the Jade Blood - Sanosuke Harada
Heaven's Memo Pad - Soichiro Hinamura/Fourth
High School of the Dead - Kouichi Shido
Hiiro no Kakera: The Tamayori Princess Saga - Suguru Ohmi
Horizon in the Middle of Nowhere - Muneshige Tachibana
Innocent Venus - Toraji Shiba
Inu X Boku: Secret Service - Ayumu Warashibe
Kaleido Star - Yuri Killian
Kino's Journey - Author (ep9), Trader B (ep2)
Madlax - Luciano (ep9)
Maria Holic - Kanae Touichiro
Maria†Holic: Alive - Kanae Touichirou
Mezzo DSA - Andou, Furahre (ep10), Additional Voices
Noir - Burke (ep4), Guerrilla (ep7), Additional Voices
One Piece - Ghin (FUNimation Dub)
Papuwa - Tottori
Peacemaker Kurogane - Teizo Miyabe
Phi-Brain: Puzzle of God - Herbert Müller
Princess Nine - Bad Boy 1 (ep4), Hori Manager (ep22), Meio Player (ep10), NHSBA Director (ep11), Reporter (ep11), Ruffian (ep7), Ruffian A (ep16), Tennis Player, Tennis Player 1 (ep3), Additional Voices
Shadow Skill - Lo
Sorcerous Stabber Orphen - Killing Doll (ep10), Sentry (ep13), The Golem (ep9), Townspeople (ep14)
Tears of Tiara - Arawn
The Book of Bantorra - Fotona, Kartohero (ep2), Additional Voices
Those Who Hunt Elves II - Chairman (ep8), Villager (ep7), Wolf Hunter (ep7)
Xenosaga: The Animation - Caspase (ep1), Additional Voices
Movies - Dubbing
OVA - Dubbing
Web Anime
Video Games
Video Games - Dubbing
Trivia
Number of VA titles on this wiki: (69)
In April 2014, he was pulled over by Spring Branch Police and was found to have one of his 16-year-old students with him, who told the investigator they were in a sexual relationship.
Ad blocker interference detected!
Wikia is a free-to-use site that makes money from advertising. We have a modified experience for viewers using ad blockers

Wikia is not accessible if you've made further modifications. Remove the custom ad blocker rule(s) and the page will load as expected.