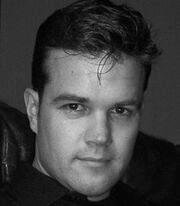 Jay Hickman
is an American actor and voice actor. He is mostly working on ADV Films and Seraphim Digital. His first role in FUNimation Entertainment was Chew in
One Piece
.
He was born to a Sherpa guide and a Christian missionary in the Himalayas.
Animation Voice Work
Animation - Dubbing
Michel - Boris' Friend (ep12), Mason (ep23), Sandie Fairy (ep23)
Anime Voice Work
Anime - Dubbing
009-1 - Bellboy (ep3), Phantom (ep4)
Air - Ryūya, Sky
Air Gear - Fuumei Goshogawara, Saji, Spitfire, Additional Voices
Akame ga Kill! - Dr. Stylish, Officer (eps20, 22-24), The Lord (ep19), Additional Voices
Amagi Brilliant Park - Takaya Kurisu
Amnesia - Waka
Angelic Layer - Shuji Inada, Additional Voices
Aquarian Age: Sign for Evolution - Ryusei
Best Student Council - Advisor#2 (ep26), Masahiro (ep25), Shiro Kinjo, Additional Voices
Black Bullet - Kagetane Hiruko
Btooom! - Hisanobu (ep5), Wakamoto (ep10)
Campione! - Man A, Newscaster, Referee (ep5)
Cyberteam in Akihabara - Male Co-Star (ep9), Miyama's Professor (ep10), News Anchor, Scientist (ep19), TV Anchorman (ep22), Taki-Bear (ep8), Additional Voices
Diamond Daydreams - Minoru Jinguji
Divergence Eve - Bernard Firestar
Dream Eater Merry - Lestion/Leon
Elfen Lied - Kurama
Excel Saga - Watanabe
Food Wars! - Joichiro Yukihara
Full Metal Panic! - Hiroshi Kasuya (ep21), Maintenance Man B (ep19), Ryunosuke Akagi (ep14), Sailor Captain, Savage A (ep17), Additional Voices
Full Metal Panic! The Second Raid - Tony (ep3), Additional Voices
Full Metal Panic? Fumoffu - Kotaro Onodera, Additional Voices
Gantz - Inamori
Gasaraki - Akihiro Hirokawa, Gowa Operator (ep1), Guide (ep5), Journalist (ep3), News Anchor (ep4), Tank Crew (ep3), Tank Gunner (ep2), Watanabe Clan (ep15), Additional Voices
Gatchaman Crowds - Additional Voices
Gatchaman Crowds insight - Millio Toriyama
GATE - Koji Sugawara
Generator Gawl - Koji, Cop#2 (ep12)
Ghost Hound - Dr. Atsui Hirata
Gravion - Alex Smith, Otori, Additional Voices
Gravion Zwei - Alex Smith, Otori, Additional Voices
Guyver: The Bioboosted Armor - Chief Odagiri, Additional Voices
Hamatora: The Animation - Arata Osada (ep5), Manaka (ep10), Nakada (ep3)
Himouto! Umaru-chan - Additional Voices
Kaleido Star - Fool, Thief (ep27)
Kanon - Kuze
Kino's Journey - Sixshooter, Soldier A (ep3), Soldier A (ep13), The Lonely Man (ep1)
La storia della Arcana Famiglia - Debito
Log Horizon - Crusty
Log Horizon 2 - Krusty
Madlax - SSS
Martian Successor Nadesico - Akatsuki Nagare, Chairman (ep7)
Medaka Box: Abnormal - Oudo Miyakonojou
Mezzo DSA - Leon (ep2), Additional Voices
Misaki Chronicles - Bernard Firestar
My Hero Academia - Additional Voices
My Love Story!! - Additional Voices
NAKAIMO - My Little Sister Is Among Them! - Additional Voices
Nobunaga the Fool - Charlemagne
Noir - Guerrilla (ep7), Milosh (ep13), Vanel (ep5), Additional Voices
Nyan Koi! - Tama
One Piece - Chew, Hammond, Additional Voices
Onigiri - Narrator
Outbreak Company - Officer Pervy
Pani Poni Dash! - Fujiyama (ep13)
Papuwa - Gee's Dad (ep16), Shintaro
Parasyte -the maxim- - Shiro Kuramori
Peacemaker Kurogane - Sakon Kasuya (ep23), Additional Voices
Phi-Brain: Puzzle of God - Baron Kaidou, Bad Actor A (ep35), Orpheus Male A (ep37), Passenger Overreaction (ep35), Students, Watch Wearing Kid (ep29)
Princess Nine - Choir Leader (ep4), Kisaragi Boys Teammate (ep13), Reporter B (ep10), Sakurai, Additional Voices
Shadow Skill - Business Man (ep4), Kain "G" Phalanx, Kor Icks (ep2), Van Ashvar
Shattered Angels - Kazuya
Sorcerous Stabber Orphen - Sentry (ep13), Student (ep20), Tim
Sorcerous Stabber Orphen: Revenge - Reed (ep5)
Tactics - Takahashi (ep13), Additional Voices
The Wallflower - Delinquent 3 (ep7), Fishmonger (ep8), Additional Voices
Those Who Hunt Elves II - Satan Santa (ep9), The Judge, Townsman (ep3), Additional Voices
Ushio & Tora - Izuna, Raishin, Abe no Yasuchika (ep19), Izumi (ep8), Izuna, Nicholas Koestler
Movies - Dubbing
OVA - Dubbing
Live-Action Voice Work
Movies - Dubbing
Video Games
Video Games - Dubbing
Trivia
Number of VA titles on this wiki: (88)
Ad blocker interference detected!
Wikia is a free-to-use site that makes money from advertising. We have a modified experience for viewers using ad blockers

Wikia is not accessible if you've made further modifications. Remove the custom ad blocker rule(s) and the page will load as expected.