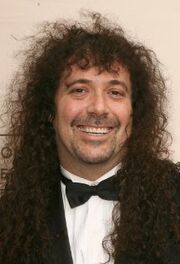 Jess Q. Harnell
(born December 23, 1963) is an American singer and voice actor.
Animation Voice Work
Animation
ChalkZone - Joe Tabootie, Baby Bird#1 (ep1), Banshee (ep13) Beanie Boy#1 (ep14), Butch (ep2), Buttered Toast Man (ep40), Cat (ep1), Courtney Condor (ep14), Disembodied Head (ep13), Lars (ep40), Moustache (ep3), Old Man Last Year (ep40), Parrot (ep2), Push (ep34), Razor (ep3), Scientist#1 (ep12), Scout (ep2), Singer#1, Thor Throat (ep11), Thorn Bush (ep40), Valet (ep13), Walrus (ep1), Additional Voices
Anime Voice Work
Anime - Dubbing
Movies - Dubbing
Trivia
Number of VA titles on this wiki: (5)
Ad blocker interference detected!
Wikia is a free-to-use site that makes money from advertising. We have a modified experience for viewers using ad blockers

Wikia is not accessible if you've made further modifications. Remove the custom ad blocker rule(s) and the page will load as expected.