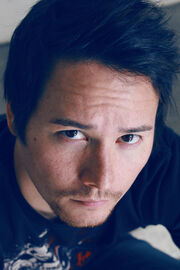 Johnny Yong Bosch
(born January 6, 1976 in Kansas City, Missouri) is an American actor, voice actor, martial artist and musician.
He's known for voicing Ichigo Kurosaki in Bleach, Itsuki Koizumi in The Melancholy of Haruhi Suzumiya, Izaya Orihara in Durarara!!, Lelouch Lamperouge in Code Geass: Lelouch of the Rebellion, Nero in Devil May Cry 4, Vash the Stampede in Trigun and Yu Narukami in Persona 4: The Animation and the video games.
He's a two-time American Anime Award nominee and is also the lead singer in the band Eyeshine.
Filmography
Anime
Anime Shorts
Anime Specials
Movies
Movies - Dubbing
OVA
Video Games
Web Anime
Audio Drama
Trivia
Number of VA titles on this wiki: (137)
Ad blocker interference detected!
Wikia is a free-to-use site that makes money from advertising. We have a modified experience for viewers using ad blockers

Wikia is not accessible if you've made further modifications. Remove the custom ad blocker rule(s) and the page will load as expected.