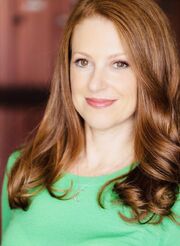 Kara Greenberg
is an American voice actress working with ADV Films and Seraphim Digital Studios. She also teaches acting at Sam Houston State University.
Anime Voice Work
Anime - Dubbing
Air - Crowd (ep12), Kids (ep12), Maika Shino, Students (ep10)
Blue Drop - Onomil, Additional Voices
Clannad - Sanae Furukawa, Student (ep24)
Clannad: After Story - Sanae Furukawa
Devil May Cry: The Animated Series - Elise (ep8)
GATE - Additional Voices
Ghost Hound - Miki Komori, Namie Ogi, Additional Voices
Girls und Panzer - Darjeeling
Is It Wrong to Try to Pick Up Girls in a Dungeon? - Chigusa Hitachi, Lunor Faust (ep1)
Maid Sama! - Shizuko Kaga
Medaka Box: Abnormal - Youka Naze/Kujira Kurokami
No Game No Life - Kurami Zell
Nyan Koi! - Nagi Ichinose
Pani Poni Dash! - Media, Raccoon
Rozen Maiden Zurückspulen - Souseiseki
Sunday Without God - Kera, Volrath Fahren
Movies - Dubbing
Web Anime - Dubbing
Trivia
Number of VA titles on this wiki: (21)
Ad blocker interference detected!
Wikia is a free-to-use site that makes money from advertising. We have a modified experience for viewers using ad blockers

Wikia is not accessible if you've made further modifications. Remove the custom ad blocker rule(s) and the page will load as expected.