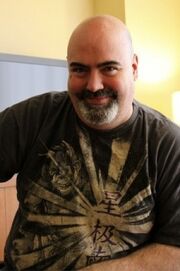 Kyle Henry Hebert
(born June 14, 1969 in Lake Charles, Louisiana) is an American voice actor and podcaster. He's best known for voicing the adult version of Gohan and the Narrator in the Funimation English dub of the Japanese anime
Dragon Ball Z
.
Hebert got his start in the mid 1990s as a disc jockey for Radio Disney, under the pseudonym Squeege. This lasted until September 2005, when he moved from Dallas to Los Angeles, to pursue bigger interests in the world of voice acting. Kyle's current list of recurring roles includes Kiba Inuzuka on Naruto, Sōsuke Aizen in Bleach, and Kamina in Gurren Lagann. He is also the voice of Big the Cat of the Sonic the Hedgehog franchise as of 2010.
At Anime Expo 2009, Kyle won best English Voice Actor in the SPJA Awards for his role as Kamina in Gurren Lagann. Hebert is also a podcaster, co-founding and hosting the weekly BigBaldBroadcast with his long time friend and webmaster, known only as Otherworld Steve.
Filmography
Anime
Anime Specials
Movies
Movies - Dubbing
OVA
Video Games
Web Animation
Web Anime
Trivia
Number of VA titles on this wiki: (194)
Ad blocker interference detected!
Wikia is a free-to-use site that makes money from advertising. We have a modified experience for viewers using ad blockers

Wikia is not accessible if you've made further modifications. Remove the custom ad blocker rule(s) and the page will load as expected.