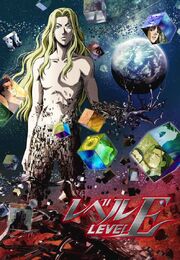 Level E
(レベルE) is an anime based on the comic science fiction manga series by Yoshihiro Togashi. It was produced by Studio Pierrot and David Production and aired on TV Tokyo beginning in January 11, 2011 and ended in April 5, 2011.
Japanese Voice Cast
English Voice Cast
Main Cast
Secondary Cast
Minor Cast
Additional Voices
Ad blocker interference detected!
Wikia is a free-to-use site that makes money from advertising. We have a modified experience for viewers using ad blockers

Wikia is not accessible if you've made further modifications. Remove the custom ad blocker rule(s) and the page will load as expected.