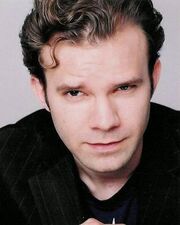 Liam O'Brien
(Born May 28, 1976 in Belleville, New Jersey, USA) is an American voice actor. He's married to fellow voice actress
Amy Kincaid
.
He's known for voicing: Gaara in Naruto and Jūshirō Ukitake in Bleach.
Filmography
Animation
Anime
Anime - Dubbing
Audio Drama
Movies
Movies - Dubbing
OVA
Video Games
Castlevania: Curse of Darkness - Isaac
Catherine - Orlando Haddick
Culdcept Saga - Additional Voices
D4 - Phillip Cheney (ep1)
Dawn of Mana - Salamander
Devil May Cry 4 - Sanctus
Disgaea 3: Absence of Justice - Master Big Star, Additional Voices
Enchanted Arms - Makoto/Mystery Man
Eternal Sonata - Waltz
Final Fantasy Crystal Chronicles: Ring of Fates - Cu Chaspel
Front Mission 4 - Calvo, Wagner
Guitar Hero: World Tour - Additional Voices
Kamen Rider: Dragon Knight - Trash Mob B, Wrath
Killer Is Dead - David/Narrator
MagnaCarta 2 - Huaren
Mana Khemia: Alchemists of Al-Revis - The Other Vayne, Vayne Aurelius
ObsCure - Kenny Matthews
Odin Sphere - Ingway
Operation Darkness - Jude Lancelot, Herbert East, Waffen-SS Schutze
Persona 4 Arena - Akihiko Sanada
Persona 4 Arena: Ultimax - Akihiko Sanada
Professor Layton and the Last Specter - Additional Voices
Professor Layton and the Miracle Mask - Additional Voices
Professor Layton and the Unwound Future - Additional Voices
Race Driver: Grid - Irish Teammate
Resident Evil: The Mercenaries 3D - Additional Voices
Resident Evil 5 - Reynard Fisher
Romancing SaGa - Jelton Man, Melvir Guard, Raphael, Additional Voices
Sakura Wars: So Long, My Love - Sugarubi
Samurai Champloo: Sidetracked - Mugen
Shin Megami Tensei: Persona 3 - Akihiko Sanada, Punk, Smirking Classmate, Young Man
Shin Megami Tensei: Persona 3 FES - Akihiko Sanada, Guard#2
Shin Megami Tensei: Persona 3 Portable - Akihiko Sanada, Punk, Smirking Classmate, Young Man
Silent Hill: Shattered Memories - Father on Phone
Silent Hill 2 - Eddie Dombrowski (2012 HD)
Soul Nomad & the World Eaters - Levin, Raksha
Spectrobes: Origins - Neal
Suikoden IV - Keneth, Merchant-like Man
Tekken 6 - Miguel Caballero Rojo, Narrator (Paul's Ending), Russian Soldiers (Dragunov's Ending), Soldiers (Scenario Campaign's Epilogue)
The Evil Within - Valerio Jimenez, Male Villager, Obese Zombie
Unchained Blades - Lucius, Nidhogg
Virtue's Last Reward - Dio
Wild Arms 5 - Chuck Preston, Crewman, Moderate Veruni Leader
Trivia
Number of VA titles on this wiki: (158)
Ad blocker interference detected!
Wikia is a free-to-use site that makes money from advertising. We have a modified experience for viewers using ad blockers

Wikia is not accessible if you've made further modifications. Remove the custom ad blocker rule(s) and the page will load as expected.