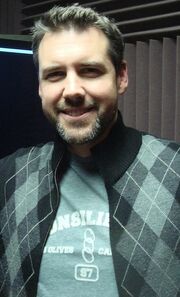 Marc Diraison (born February 7, 1975 in San Rafael, California) is an American voice actor, ADR director, and script writer who has worked for 4Kids Entertainment, Bang Zoom! Entertainment, DuArt Film and Video and NYAV Post.
He's known for voicing: Guts in Berserk.
Filmography
Animation
Anime
009 Re:Cyborg - 002: Jet Link
Aldnoah.Zero - Bartender (ep1), Footage Narrator (ep1), Lookout (ep4), Spy
Berserk - Guts
Coppelion - Gojiro Kajii, Heiji Tanizaka
F-Zero: GP Legend - Young Silver Neelsen
Fate/Zero - Tokiomi Tohsaka
Gargantia on the Verdurous Planet - Captain (ep3), Captain of the Atuy (ep4), Hostesses (ep5), Kugel, Master (ep8)
Hunter × Hunter - Ging Freecss
JoJo's Bizarre Adventure - George Joestar I
Kurokami: The Animation - Biker (ep4), Elder (ep7), Hermann, Hiyou, Masagami (ep21), Tribal End
Magi: The Labyrinth of Magic - Ithnan
Nura: Rise of the Yokai Clan: Demon Capital - Hidemoto the 27th (ep24.5), Kidomaru
One Piece - Dr. Hiriluk, Genzo, Pell, Roronoa Zolo (4Kids Dub)
One Punch Man - Bearded Worker, Pig God (ep10), Subterranean (ep1)
Queen's Blade Rebellion - Additional Voices
Samurai Deeper Kyo - Saizo Kirigakure, Elder B
Space Pirate Mito - Engineer (ep11), Karsoon
Sword Art Online - Akihiko Kayaba
The Seven Deadly Sins - Ruin
Yu-Gi-Oh! GX - Additional Voices
Zetman - Takayuki Hige, Cell Delete, Homeless Man, Narration, The Sweeper
Anime Shorts
Movies
OVA
Video Games
Trivia
Number of VA titles on this wiki: (37)
Ad blocker interference detected!
Wikia is a free-to-use site that makes money from advertising. We have a modified experience for viewers using ad blockers

Wikia is not accessible if you've made further modifications. Remove the custom ad blocker rule(s) and the page will load as expected.