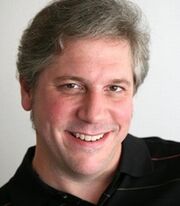 Mark Xavier Laskowski
(born in Parma, Ohio) is an American voice actor working for ADV Films and Seraphim Digital.
Animation Voice Work
Animation - Dubbing
Michel - Biam, Biam Monster (ep26), Dark (ep14)
Anime Voice Work
Anime - Dubbing
Akame ga Kill! - Kaku (ep11), Pimp (ep6)
AKB0048 - Teacher (ep1), Tomomi's Father (ep5), Yuuka's Father, Additional Voices
AKB0048 Next Stage - Higashino (ep5), Yuuka's Father, Additional Voices
Air Gear - Issha "Buccha" Mihotoke
Amagi Brilliant Park - Triken, Additional Voices
Angel Beats! - Igarashi (ep9), Mysterious Youth (ep12)
Angelic Layer - Masaharu Ogata
Another - Policeman B (ep5), Additional Voices
Beyond the Boundary - Additional Voices
Black Bullet - Ayn Rand, General (ep4)
Bodacious Space Pirates - Announcer, Captain Nine
Btooom! - Mitsuo Akechi
Campione! - Toma Amakasu, Ice Cream Man (ep9)
Chaika - The Coffin Princess: Avenging Battle - Clay Morgan (ep3)
Chivalry of a Failed Knight - Bisho (ep3), Additional Voices
Clannad: After Story - Company Employee, Rival Team (ep1), Soccer Team Captain (ep4), Tajima, Additional Voices
Cyberteam in Akihabara - Takaido (eps1-8), Tiny (ep8), Additional Voices
DRAMAtical Murder - Akushima
Devil Survivor 2: The Animation - Yuzuru Akie, Additional Voices
Diamond Daydreams - Jurota Toukibi
Dream Eater Merry - Ken, Mr. Osuge (ep4), Villian (ep2), Additional Voices
Dusk Maiden of Amnesia - Male Student (ep6), Additional Voices
Excel Saga - Iwata, Additional Voices
Food Wars! - Yuya Tomita
From the New World - Subaru, Additional Voices
Full Metal Panic! The Second Raid - Lost & Found Guy (ep13), Additional Voices
Gasaraki - Battalion Executive Officer (ep3), Cameraman, Gowa Operator (ep1), Additional Voices
Gatchaman Crowds - Additional Voices
GATE - Additional Voices
Ghost Hound - Eiichi Ooya, Furusawa, Additional Voices
Guyver: The Bioboosted Armor - Elegen (ep17), Additional Voices
Hakkenden: Eight Dogs of the East - Kobungo Inuta
Hakuōki: Dawn of the Shinsengumi - Kodo Yukimoura, Additional Voices
Hakuōki: Demon of the Fleeting Blossom - Kodo Yukimura (ep1), Additional Voices
Hakuōki: Record of the Jade Blood - Kodo Yukimura, Misawa (ep7), Additional Voices
Hamatora: The Animation - Karasawa (ep9), Tamaki (ep11), Tarao (ep6), Tsutsumishita
High School of the Dead - Kota Hirano
Horizon in the Middle of Nowhere II - Felipe Segundo, Kobold, Milton, Pedro Valdés
IS: Infinite Stratos 2 - Crepe Shop Dude (ep1), Robber C (ep1), Additional Voices
Inu X Boku: Secret Service - Yujiro Kōda
Kaleido Star - Announcer, Attendant, Bodyguard (ep18), Cast, Employee (ep23), Instructor Male (ep2), Investor (ep24), Little Mermaid Director (ep10), Manager (ep45), Mute, Pack (ep14), Reporter (ep47), TV Anchor (ep28), TV Reporter (ep21), Additional Voices
Kanon - Party People (ep18), Spectators (ep19), Additional Voices
Kokoro Connect - Additional Voices
Little Busters! - English Teacher (ep25), Judo Club Captain (ep25), Saburo (ep24), Additional Voices
Log Horizon - Arguer (ep13), Bar Jerk (ep23), Brigandia Jerk (ep3), Brigandia Jerk (ep4), Brigandia Jerk A (ep1), Confused Adventurer (ep9), Confused Gamer (ep1), Gatsuomaru (ep2), Knight (ep13), Nobleman Curls, Pippin (ep2), Swindler (ep7)
Martian Successor Nadesico - Jun Aoi, Additional Voices
Medaka Box: Abnormal - Additional Voices
My Love Story!! - Additional Voices
NAKAIMO - My Little Sister Is Among Them! - Additional Voices
Nobunaga the Fool - Magellan
Noir - Rizzo (ep8), Additional Voices
Nyan Koi! - Chatora (ep9)
Outbreak Company - Dondihno
Papuwa - Baby Snail (ep10), Blue Scat Mouse, Giant Clam Man (ep4), Great Man God, Komoro Family (ep10), Mole Zombie, Willow (ep20)
Parasyte -the maxim- - Mamoru Uda, Student (ep10), Yakuza (ep11)
Phi-Brain: Puzzle of God - Adult B (ep11), Awesome Kid (ep10), Boy A, Clash, Crew B (ep11), Guard A (ep10), Ishimura Man (ep7), Male Student 1, Man (ep9), Man in Black B (ep10), Manager (ep8), Pops (ep2), Random Fool (ep1), Ref (ep7), Students, Student A (ep12)
Princess Nine - Bad Boy 3 (ep4), Boys Catcher (ep26), Reporter (ep11), Rinkai Dai Catcher (ep13), Ruffian (ep7), Ruffian B (ep16), Tanba (ep23), Tennis Player, Tennis Player 2 (ep3), Additional Voices
Problem Children Are Coming from Another World, Aren't They? - Calico Cat (Male Version), Additional Voices
Re: Hamatora - Ogi (ep2), Suzuki
Shadow Skill - Bad Dude B (ep3), Death (ep21), River Man (ep7), Soldier, Soldier A (ep20), Talisman, Uno (ep10), Villager (ep19), Additional Voices
Shining Hearts - Additional Voices
Tactics - Yoshio (ep19)
The Ambition of Oda Nobuna - Konoe Sakihisa, Additional Voices
The Book of Bantorra - Bada (ep11), Gamo Rosso, King (ep3), Orntorra (ep25), Relia Bookwat, Additional Voices
The Wallflower - Delinquent 2 (ep7), Head Chef (ep10), Male Manager (ep12), Owner (ep3), Pink Delinquent (ep4), Additional Voices
Tsuritama - Duck Leader, Duckmen
Ushio & Tora - Elder of the East, Kyoji Atsuzawa, Tokijun
Movies - Dubbing
OVA - Dubbing
Web Anime - Dubbing
Live-Action Voice Work
Movies - Dubbing
Trivia
Number of VA titles on this wiki: (87)
Ad blocker interference detected!
Wikia is a free-to-use site that makes money from advertising. We have a modified experience for viewers using ad blockers

Wikia is not accessible if you've made further modifications. Remove the custom ad blocker rule(s) and the page will load as expected.