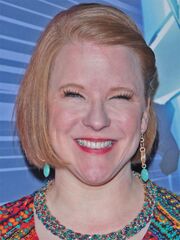 Maxey Whitehead
(born June 15, 1981) is an voice actress for FUNimation Entertainment. She's most known for replacing voice actor
Aaron Dismuke
as the voice of Alphonse Elric in
Fullmetal Alchemist: Brotherhood
. She also voices Kazuma Ikezawa in
Summer Wars
 and Crona in 
Soul Eater
.
Filmography
Anime
A Certain Scientific Railgun - Aomi Yanagisako
Baccano! - Czeslaw Mayer
Bamboo Blade - Additional Voices
Big Windup! - Announcer
Birdy the Mighty: Decode - Marionette (ep7), Additional Voices
Birdy the Mighty Decode:02 - Shoko Kagami, Additional Voices
Black Butler - Richard (ep16), Additional Voices
Blassreiter - Additional Voices
Casshern Sins - Hoto (ep17), Additional Voices
Chaos Dragon - Additional Voices
Chaos;HEAd - Additional Voices
Corpse Princess - Shouta
D.Gray-Man - Patient's Wife
Darker than Black - Maki
Death Parade - Jirō (ep5)
Dimension W - Elizabeth Greenhough-Smith
Dragon Ball Z Kai - Dende, Additional Voices
Dragonaut -The Resonance- - Additional Voices
El Cazador de la Bruja - Ellis
Endride - Additional Voices
Fairy Tail - Additional Voices
Fairy Tail: Zerø - Little Boy (ep4)
Free! - Young Rin Matsuoka
Free! Eternal Summer - Young Rin Matsuoka
Fullmetal Alchemist: Brotherhood - Alphonse Elric
Garo: The Animation - Agatha (ep7)
Gunslinger Girl: Il Teatrino - Young Pinocchio (ep2), Additional Voices
Heaven's Lost Property - Additional Voices
Heaven's Lost Property: Forte - Additional Voices
Hero Tales - Additional Voices
Initial D: First Stage - Additional Voices
Kamisama Kiss 2 - Shinjuro/Young Kurama (ep7)
Kaze no Stigma - Young Kazuma Yagami (ep7)
Last Exile: Fam, The Silver Wing - Young Johann, Additional Voices
Level E - Doris (ep11), Young Mikihisa (ep9)
Michiko & Hatchin - Blackie
My Bride is a Mermaid - Bully A (ep23)
Oh! Edo Rocket - Additional Voices
Ōkami-san and her Seven Companions - Chutaro Nezumi (ep8)
One Piece - Akibi, Additional Voices
Phantom: Requiem for the Phantom - Duke Stone (ep5), Additional Voices
Ping Pong: The Animation - Young Hoshino
Princess Jellyfish - Tsukimi Kurashita
Romeo x Juliet - Antonio
Rosario + Vampire Capu2 - Lilith (ep11)
Sands of Destruction - Additional Voices
Sekirei - Shiina
Sekirei: Pure Engagement - Shiina
Sengoku Basara: Samurai Kings - Mori Ranmaru
Sgt. Frog - Poyon, Additional Voices
Shiki - Hiromi Murasako
Shin-chan - Additional Voices
Soul Eater - Crona
Space☆Dandy - Erssime (ep18)
Spice and Wolf II - Lunt
Strike Witches 2 - Fernandia Malvezzi (ep12)
The Sacred Blacksmith - Doris
The Vision of Escaflowne - Young Van Franel (FUNimation Dub)
Tokyo Ghoul - Juzo Suzuya
Tokyo Ghoul √A - Juzo Suzuya
Anime Shorts
Movies
OVA
Video Games
Web Anime
Trivia
Number of VA titles on this wiki: (80)
Her favorite role is Crona from Soul Eater.
She was roommates with Emily Neves in college.
Ad blocker interference detected!
Wikia is a free-to-use site that makes money from advertising. We have a modified experience for viewers using ad blockers

Wikia is not accessible if you've made further modifications. Remove the custom ad blocker rule(s) and the page will load as expected.