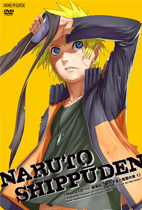 Naruto: Shippūden
is the spinoff series of the original Naruto anime and are based on the second part of the manga created by Masashi Kishimoto. The series is directed by Hayato Date and produced by Studio Pierrot and TV Tokyo. It began it's broadcasting on TV Tokyo in February 15, 2007 and is still ongoing.
The English dubbed version of the series is produced by Viz Media. It began it's airing in October 28, 2009 on Disney XD.
English Voice Cast
Main Cast
Secondary Cast
Minor Cast
Additional Voices (Uncredited)
Additional Voices (Archive Footage)
Ad blocker interference detected!
Wikia is a free-to-use site that makes money from advertising. We have a modified experience for viewers using ad blockers

Wikia is not accessible if you've made further modifications. Remove the custom ad blocker rule(s) and the page will load as expected.