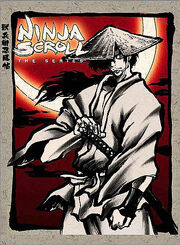 Ninja Scroll: The Series
(獣兵衛忍風帖<龍宝玉篇> Jūbē Ninpūchō Ryūhōgyoku Hen?) is a 2003 Japanese animated television series based on Yoshiaki Kawajiri's Ninja Scroll. The series is directed by Tatsuo Sato and animated by Madhouse Studios.
English Voice Cast
Main Cast
Secondary Cast
Minor Cast
Ad blocker interference detected!
Wikia is a free-to-use site that makes money from advertising. We have a modified experience for viewers using ad blockers

Wikia is not accessible if you've made further modifications. Remove the custom ad blocker rule(s) and the page will load as expected.