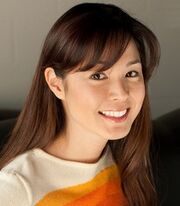 Patricia Ja Lee
(born July 19, 1975) is an American actress/model with Korean descent. She is best known for her roles of Cassie Chan, the Pink Ranger on the television series
Power Rangers Turbo
and
Power Rangers in Space
and as the voice and motion capture actress for Jill Valentine in the popular Resident Evil franchise.
She's also known as: P.J. Lee, PJ Lee and Pajama Lee.
Filmography
Anime
Movies
Akira - Additional Voices (2001 Dub)
OVA
Video Games
Trivia
Number of VA titles on this wiki: (15)
Ad blocker interference detected!
Wikia is a free-to-use site that makes money from advertising. We have a modified experience for viewers using ad blockers

Wikia is not accessible if you've made further modifications. Remove the custom ad blocker rule(s) and the page will load as expected.