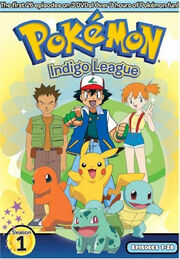 Pokémon
or
Pocket Monster
(ポケットモンスター) is an Anime based on the video game series. It aired between April 1, 1997 to November 14, 2002 in Japan consisting of 276 episodes. The series is split up in five seasons: Indigo League, The Journeys in the Orange Islands, The Johto Journeys, Johto League Champions and Master Quest.
The English adaption of the series was licensed by 4Kids Entertainment, but in 2006 it was moved to the Pokémon Company.
English Voice Cast
Starring
Additional Voices by
Rikako Aikawa
Ken Gates - Narrator
Stan Hart - Professor Oak
Megumi Hayashibara
Megan Hollingshead - Jenny, Nurse Joy
Tatsuyuki Ishimori
Unsho Ishizuka
Rika Matsumoto
Shinichiro Miki
Chinami Nishimura
Rei Takano
Yuji Ueda
Jimmy Zoppi - Gary Oak
Ad blocker interference detected!
Wikia is a free-to-use site that makes money from advertising. We have a modified experience for viewers using ad blockers

Wikia is not accessible if you've made further modifications. Remove the custom ad blocker rule(s) and the page will load as expected.