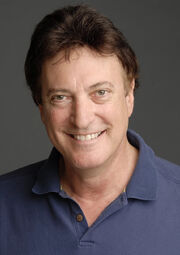 Richard Epcar
is an American actor, voice actor and director born on April 29, 1955 in Denver, Colorado who has voiced over 300 characters in games, animations and anime. He is married to fellow voice actress
Ellyn Stern
.
Animation Voice Work
Animation - Dubbing
Movies
Movies - Dubbing
Anime Voice Work
Anime
Anime - Dubbing
Anime Shorts - Dubbing
Movies
Movies - Dubbing
OVA - Dubbing
Web Anime
Live-Action Voice Work
Movies
Movies - Dubbing
TV Series
Video Games
Video Games
Video Games - Dubbing
Akiba's Trip: Undead & Undressed - Souga Kagutsuki
Ar tonelico: Melody of Elemia - Bourd Rade, Church Knight B
Ar tonelico Qoga: Knell of Ar Ciel - Gengai
Atelier Ayesha: The Alchemist of Dusk - Keithgriff Hazeldine
Atelier Iris 2: The Azoth of Destiny - Theodore
Bravely Default - Argent Heinkel
Breakdown - Charlie Two, Research Center Employee, Researcher in Need, Soldier
Catherine - Additional Voices
Dead or Alive: Dimensions - Fame Douglas, Leon
Dead or Alive 5: Ultimate - Leon
Death by Degrees - Soldiers
Demons' Score - Berith, Dr. Aleister
Dragon's Dogma - Additional Voices
Dynasty Tactics 2 - Lu Bu
Dynasty Warriors: Strikeforce - Dong Zhuo
Galerians - Dr. Lem, Dr. Steiner, Gangster, Maintenance Man
Jade Cocoon: Story of the Tamamayu - Additional Voices
Kessen III - Hisahide Matsunaga, Shingen Takeda
Last Rebellion - Arzelide Lorvin, Grudge Holders
Luminous Arc - Andre
Lupin the 3rd: Treasure of the Sorcerer King - Daisuke Jigen
Mana Khemia: Alchemists of Al-Revis - Flay Gunnar, Zeppel Kriever
Mana Khemia 2: Fall of Alchemy - Dad Puni, Flay Gunnar, Lily's Father, Zeppel Kriever
Mortal Kombat vs. DC Universe - Raiden, The Joker
Mugen Souls - Shirogane
Odin Sphere - Brigan, Hindel
Phase Paradox - Stanley Kinabalu
Samurai Warriors - Shingen Takeda
Shadow Hearts: Covenant - Tsar Nicholas, Additional Voices
Soulcalibur V - Additional Voices
Spectrobes: Origins - Krux
Star Ocean: First Departure - Del Argosy (The Crimson Shield)
Star Ocean: Second Evolution - Gabriel
Victorious Boxers: Revolution - Kamogawa
Warriors Orochi - Dong Zhuo, Bokuzen Ujiie, Cao Xiu, Cheng Yuanzhi, Gao Shun, Genba Karasawa, Guan Hai, Kazumasa Isono, Kiyotsuna Akao, Kojūrō Katakura, Li Meng, Michiyasu Kurushima, Mitsuyasu Shimura, Morinobu Nishina, Murashige Araki, Naganori Yamazaki, Nagashige Tomita, Nagayuki Miyoshi, Narimasa Saasa, Nobuyasu Gotō, Song Xian, Sun Li, Tomomichi Iwanari, Wang Lang, Yan Baihu, Yang Huai, Yorisada Yazawa, Yoshiaki Katō, Yoshimasa Tanaka, Yoshimitsu Murakami, Xu Rong, Zhu Zhi
Warriors Orochi 2 - Dong Zhuo, Gao Shun, Hidetsuna Sakenobe, Kageyori Yashiro, Kojūrō Katakura, Li Meng, Mitsunao Takeoka, Mitsuyasu Shimura, Nobuyasu Gotō, Song Xian, Yan Baihu, Yasutomo Asahina
Trivia
Number of VA titles on this wiki: (162)
Ad blocker interference detected!
Wikia is a free-to-use site that makes money from advertising. We have a modified experience for viewers using ad blockers

Wikia is not accessible if you've made further modifications. Remove the custom ad blocker rule(s) and the page will load as expected.