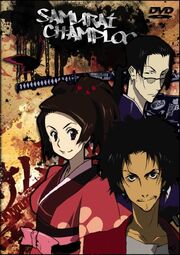 Samurai Champloo
(サムライチャンプルー) is a Japanese anime series developed by Manglobe. It featured a production team led by director Shinichirō Watanabe, character designer Kazuto Nakazawa and mechanical designer Mahiro Maeda. Samurai Champloo was Watanabe's first directorial effort for an anime television series after the critically acclaimed Cowboy Bebop. It was broadcast in Japan on Fuji TV on May 20, 2004 and ran for twenty-six episodes until its conclusion on March 19, 2005.
Samurai Champloo was critically acclaimed, and the series was dubbed in the English language and licensed by Geneon Entertainment for releases in North America. Funimation Entertainment began licensing the series after Geneon ceased production of its titles. It was also licensed for English releases in the United Kingdom by MVM Films, and in Australia and New Zealand by Madman Entertainment.
English Voice Cast
Uncredited
Ad blocker interference detected!
Wikia is a free-to-use site that makes money from advertising. We have a modified experience for viewers using ad blockers

Wikia is not accessible if you've made further modifications. Remove the custom ad blocker rule(s) and the page will load as expected.