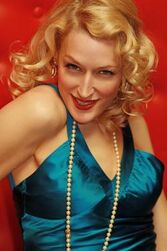 Shannon Conley
is an American actress, singer-songwriter, and voice actress based in New York City. She has mostly provided voices for animation and Japanese anime. She is the lead vocalist in the Led Zepplin cover band, Lez Zepplin.
She's also known as: Candi Washington, Holly Bobbit, Sonny Dey, Ursula Conlen, and Vibe Jones.
Filmography
Animation
Anime
Movies
Trivia
Number of VA titles on this wiki: (6)
Ad blocker interference detected!
Wikia is a free-to-use site that makes money from advertising. We have a modified experience for viewers using ad blockers

Wikia is not accessible if you've made further modifications. Remove the custom ad blocker rule(s) and the page will load as expected.