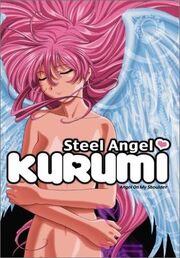 Steel Angel Kurumi
(鋼鉄天使くるみ) is an anime series based on the manga created by Kaishaku. Directed by Naohito Takahashi, animated by Oriental Light and Magic and produced by Pony Canyon with character designs by Yuriko Chiba and Yuji Ikeda and music by Toshihiko Sahashi, it has been translated and released in North America by ADV Films. In 2008, Crunchyroll announced it had partnered with Pony Canyon to release all Steel Angel Kurumi series' for streaming and download.
Voice Cast
Main Cast
Secondary Cast
Minor Cast
Additional Voices
Ad blocker interference detected!
Wikia is a free-to-use site that makes money from advertising. We have a modified experience for viewers using ad blockers

Wikia is not accessible if you've made further modifications. Remove the custom ad blocker rule(s) and the page will load as expected.