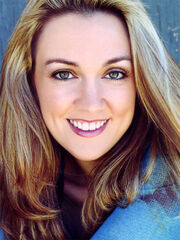 Stephanie Young Brehm
(born April 3, 1973 in Kentucky, USA) is an American voice actress working for FUNimation Entertainment. She's also a Jazz singer and the vocalist of her husband's band 'The Brehm's'.
She is best known for the role of Nico Robin in One Piece, Lizbell in Casshern Sins, Clare in Claymore and Olivier Mira Armstrong in Fullmetal Alchemist: Brotherhood.
Anime Voice Work
Anime - Dubbing
Anime Shorts - Dubbing
Anime Specials - Dubbing
Movies - Dubbing
OVA - Dubbing
Web Anime - Dubbing
Trivia
Number of VA titles on this wiki: (160)