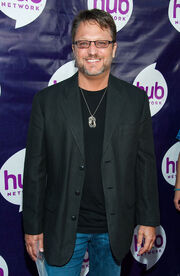 Steven Jay "Steve" Blum
(born April 28, 1960 in Santa Monica, California, USA) is an American voice actor.
He's known for voicing Spike Spiegel in Cowboy Bebop, Eikichi Onizuka in Great Teacher Onizuka, Mugen in Samurai Champloo, Roger Smith in The Big O and Orochimaru in Naruto.
Animation Voice Work
Animation
Transformers: Rescue Bots - Heatwave, Captain Wild, Ghost Inventor (ep21), Large Guy (ep4), Lighthouse Keeper (ep17), Mr. Alper, Mr. Bunty (ep29), Mr. Perkins (ep5), Old Man (ep20)
Anime Voice Work
Anime
Anime - Dubbing
Anime Shorts - Dubbing
Anime Specials - Dubbing
Movies
Movies - Dubbing
OVA - Dubbing
Audiobook/Comic Voice Work
Audio Drama
Live Action Voice Work
Movies - Dubbing
Video Games
Video Games - Dubbing
Trivia
Number of VA titles on this wiki: (137)
Ad blocker interference detected!
Wikia is a free-to-use site that makes money from advertising. We have a modified experience for viewers using ad blockers

Wikia is not accessible if you've made further modifications. Remove the custom ad blocker rule(s) and the page will load as expected.