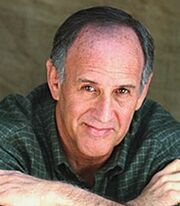 Steven Mark Kramer
(born March 1, 1948 in San Juan Capistrano, CA) is an American voice actor and ADR director. His wife is voice actress
Melora Harte
.
Filmography
Animation
Anime
.hack//Legend of the Twilight - Non-Playable Characters, Shugo's Father, Additional Voices
A Little Snow Fairy Sugar - Henry (ep25), Luchino, The Elder
Accel World - Matchmaker
Ah My Buddha - Old Monk (ep10)
Arc the Lad - Chimera (ep20), Chimera (ep21), Chimera (ep22), Operative (ep20), Soldiers (ep22)
Argento Soma - Army Official 1 (ep14), Astronomer (ep23)
Babel II: Beyond Infinity - Murai, Old Monk
Battle B-Daman - Additional Voices
Blade - Crowd (ep10), High Council Member (ep11), Master Tanba Yagyu (ep9), Old High Council Member (ep8), Vampire Hunter (ep10)
BlazBlue: Alter Memory - Bang Shishigami (ep6)
Bleach - Shunsui Kyōraku, Baraggan Louisenbairn (eps145-161), Central 46 Member (ep212), Additional Voices
Bobobo-bo Bo-bobo - Additional Voices
Carried by the Wind: Tsukikage Ran - Additional Voices
Code Geass: Lelouch of the Rebellion - Hidenobu Kubouin, Additional Voices
Coppelion - 3rd Division Member (ep8), Stealth Staff (ep3), White Coat/Kunikida
Cowboy Bebop - Carlos, Otto (ep7), Whitney Matsumoto (ep15), Additional Voices
Daigunder - Drimog
Digimon: Digital Monsters - Baihumon (ep144), Newscaster (ep144)
Digimon Data Squad - Rocky (ep9), Togemon (ep9), Vilemon (ep11)
DinoZaurs - Additional Voices
Dragon Ball Super - Elder Kai, King (ep1)
Eureka Seven - Axel Thurston
Fighting Spirit - Mr. Yasuda, Suzuki (ep52)
Figure 17 - Isamu Kuroda, Principal (ep4)
Gad Guard - Bartender, Bartender (ep5), Shopkeeper (ep4)
Gate Keepers - News Anchor (ep1), Punk (ep1)
Geneshaft - Chata, Ewers
Ghost in the Shell: S.A.C. 2nd GIG - Tadokoro (ep3), Additional Voices
Ghost in the Shell: Stand Alone Complex - Churnow (ep2)
Ghost Slayers Ayashi - Yozo Torii, Ryudo's Employee, Vassal (ep16)
Green Green - Professor
Gun Frontier - Sheriff, Tat Andale, Winchester
Gungrave - Randy, Subordinate B (ep20)
Heat Guy J - Mauro (2nd Voice), Operator B (ep26)
JoJo's Bizarre Adventure - Dario Brando (ep1)
Kaze no Yojimbo - Detective Saeki
Kekkaishi - Masanao Murakami (ep5)
Kurokami: The Animation - Bernhart, Office Worker (ep2), Store Owner (ep22)
Kyo Kara Maoh! - Alford's Father (ep20), Bob, Heathcrife, Judge (ep14), Pirate (ep5), Shas (ep15), T-Zoh, Additional Voices
Last Exile - Additional Voices
Magi: The Kingdom of Magic - Matal Mogamett
Mahoromatic: Automatic Maiden: Something More Beautiful - Additional Voices
Mars Daybreak - EF Helmsman
Mirage of Blaze - Nue, Shingen Takeda/Yuzuru
Monster - Baker (ep5), Detective (ep73), Detective B (ep64), Director Udo Heinemann, Konrad (ep68), Petrov
Moribito: Guardian of the Spirit - Clerk (ep10), Master Star Reader, Taga
Naruto - Hiruzen Sarutobi
Naruto: Shippūden - Hiruzen Sarutobi, Additional Voices
Naruto spin off! Rock Lee & his ninja pals - Hidden Leaf Villager (ep4)
Nightwalker: Midnight Detective - Director
Ninja Robots - Additional Voices
Nodame Cantabile - Conductor B (ep18), Hidemi Saku (ep6), Sebastiano Viera, Takehiko Miyoshi, Tatsumi Mine, Teacher A (ep7)
Noein: to your other self - Doctor (ep3), Enra, Isuka, Observer, Operator A, Operator B, Takuya Mayuzumi, Time Drifter
Otogi Zoshi - Regent, Tetsu (ep14)
Outlaw Star - Hadul (ep23)
Overman King Gainer - Driver (ep9), Mayor, Pelhar, Soldier (ep6), Trooper (ep10), Troopers (ep7), Additional Voices
Planetes - Additional Voices
Requiem from the Darkness - Mataichi, Yahei (ep4)
Robotech: The Macross Saga - Additional Voices
Robotech: The Masters - Angelo Dante
Robotech: The New Generation - Additional Voices
Rurouni Kenshin - Bodyguards (ep25), Cop, Dr. Gensai, Drunk, Jirokichi Ebisu (ep17), Kuro (ep42), Man (ep25), Police Man (ep24), Rokusuke, Sakata, Shibumi, Thief (ep43), Ukyo Inagi (ep64)
S-CRY-ed - Batcho (ep6), Doctor (ep6), Old Man (ep1), Radio Voice (ep3), Ryu Tairen, Spectator E (ep15), Worker (ep4)
Sailor Moon R - Great Wizard Wiseman
Saint Tail - Little (ep15), Additional Voices
Saiyuki Reload - Additional Voices
Saiyuki Reload: Gunlock - Demon (ep1), Goku's Token (ep7), Innkeeper (ep7), Jiroshin (ep1), Monk (ep1), Servant (ep2), Villager (ep5), Wang
Samurai Champloo - Additional Voices
Scrapped Princess - Old Man (ep1), Soldier (ep3)
Tenchi Muyo! GXP - Additional Voices
Tenjho Tenge - Dōgen Takayanagi
The Big O - Bonnie Fraser (ep5)
The Melancholy of Haruhi Suzumiya - Manager (ep5), Shamisen (ep25), Umpire (ep7)
The Seven Deadly Sins - Cain Barzard, Tortured Man (ep13)
Transformers: Robots in Disguise - Additional Voices
Trigun - Grim Reaper Earl Bostalk (ep4), Mob (ep3), Additional Voices
Vandread - Additional Voices
When They Cry - Angel Mort Manager (ep16), Kidnapper, Komiyama (ep13), Makino, Old Man (ep16), Tatsuyoshi Kasai, Teppei Hojo
Wild Arms: Twilight Venom - Sabriskie, Abraham (ep2), Mayor (ep3), Additional Voices
Witch Hunter Robin - Additional Voices
Wolf's Rain - Moss
X - Lead Scientist (ep7), Monk, Scientist (ep4), Truck Driver (ep5)
Zetman - Mitsugai Amagi
Movies
OVA
Shorts
TV Series
Video Games
Web Anime
Trivia
Number of VA titles on this wiki: (179)
Ad blocker interference detected!
Wikia is a free-to-use site that makes money from advertising. We have a modified experience for viewers using ad blockers

Wikia is not accessible if you've made further modifications. Remove the custom ad blocker rule(s) and the page will load as expected.