The Secret World of Arrietty
, known as
The Borrower Arrietty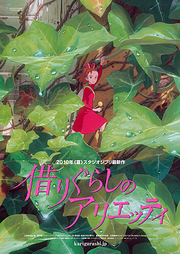 in Japan and in the UK and Australia as
Arrietty
, is a 2010 Japanese animated fantasy film based on Mandy Norton's juvenile fantasy novel The Borrowers. It was directed by Hiromasa Yonebayashi and was written by Hayao Miyazaki and Keiko Niwa. The music and score was written by Cécile Corbel and the film was released in July 17, 2010.
The film was released in North America in February 17, 2012 and was made by Walt Disney Pictures.
Voice Cast
English Voice Cast (2012 Disney Version)
Additional Voices
Ad blocker interference detected!
Wikia is a free-to-use site that makes money from advertising. We have a modified experience for viewers using ad blockers

Wikia is not accessible if you've made further modifications. Remove the custom ad blocker rule(s) and the page will load as expected.