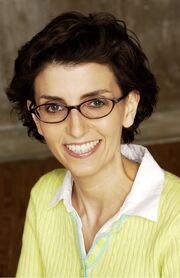 Tiffany Lynn Grant
(born October 11, 1968 in Houston, Texas) is an American voice actress and script writer. She works on ADV Films, FUNimation Entertainment and Seraphim Digital titles. She's known for voicing Asuka Langley Soryu in
Neon Genesis Evangelion
, Nojiko in
One Piece
, Altena in
Noir
and Ryoko Subaru in
Martian Successor Nadesico
.
She is married to Matt Greenfield, director, co-founder of ADV and also a voice actor.
Animation Voice Work
Animation - Dubbing
Michel - Rina, Elka (ep17), Mino (ep16), Pakoma (ep24)
Anime Voice Work
Anime - Dubbing
Akame ga Kill! - Child (ep19), Girl in Trouble (ep3), Koro, Rogue (ep24)
AKB0048 - Alyona (ep9), Kirara, Additional Voices
AKB0048 Next Stage - Female Announcer (ep3), Kirara (ep1), Mizuho Shirai (ep4), Yuuka's Mother, Additional Voices
Air - Potato, Crowd (ep12), Kids (ep12), Students (ep10)
All Purpose Cultural Cat Girl Nuku Nuku - Kyoko Ariyoshi
Amagi Brilliant Park - Moffle, Preschooler, Additional Voices
Angelic Layer - Sai Jounouchi, Asuka (ep4), Child B (ep1), Misataro (ep17), Additional Voices
Another - Bird, Kirika (ep6), Yumi Ogura, Additional Voices
Aoharu x Machinegun - Yuka
Aquarian Age: Sign for Evolution - Kiriko Heguri
Azumanga Daioh - Kaorin, Additional Voices
BECK: Mongolian Chop Squad - Additional Voices
Battle Girls: Time Paradox - Takeda Shingen
Best Student Council - Biiko Mikawa, Chika's Mother (ep21), Hikaruko Kenma(ep20), Suzie Yoshida, Additional Voices
Beyond the Boundary - Additional Voices
Birdy the Mighty Decode:02 - Additional Voices
Blue Drop - Akane Kawashima, Blue AI, Mitsuyo Asakura, Additional Voices
Blue Seed - Kome Sawaguchi, Willow (ep8), Additional Voices
Bodacious Space Pirates - Izumi Yunomoto
Case Closed - Tina Fontana (ep21), Tracy Monroe (ep53)
Chance Pop Session - Jun, Little Boy (ep6), Woman 2 (ep2)
Clannad - Student (ep24)
Clannad: After Story - Friendly Girl (ep23), Additional Voices
Claymore - Claymore A (ep11)
Cross Ange: Rondo of Angel and Dragon - Emma Bronson
Cyberteam in Akihabara - Francesca, Suzume Sakurajosui
D.N.Angel - Boy (ep25), Miyamoto (ep19), Yuji Nishimura, Additional Voices
DRAMAtical Murder - Midori
Diabolik Lovers - Young Kanato (ep7)
DRAMAtical Murder - Pseudo Rabbit
Dream Eater Merry - Serio (ep2), Yoshida, Additional Voices
ef - a tale of melodies - Sumire Asou, Additional Voices
ef - a tale of memories - Sumire Asou, Additional Voices
Elfen Lied - Girl (ep10), Kisaragi, Additional Voices
Excel Saga - Sandora, Additional Puchuus (ep2), Backup Puchuus (ep7), Kumikumi, Mean Brat (ep10), Misaki Matsuya, More Cute Puchuus (ep22), Puchuus (ep14), Additional Voices
Fairy Tail - Shop Lady (ep19)
From the New World - Additional Voices
Full Metal Panic? Fumoffu - American Reporter (ep10), Bonta-kun, Yoshiki Akutsu, Additional Voices
Fullmetal Alchemist - Marta
Fullmetal Alchemist: Brotherhood - Martel, Additional Voices
Gantz - Female Student A (ep15), Additional Voices
Gasaraki - TV Reporter (ep20), Additional Voices
Gatchaman Crowds insight - Kuus
Girls und Panzer - Sodoko, Kuromorimine Member, Saunders Member, Additional Voices
Gravion - Lady (ep7), Teacher (ep11), Thoria, Additional Voices
Gravion Zwei - Thoria, Singing Maid (ep3), Additional Voices
Hakkenden: Eight Dogs of the East - Akane's Grandmother (ep7), Byakko, Ginko, Kinko, Kokuko, Old Sister, Tenko, Additional Voices
Hamatora: The Animation - Head Maid (ep1), Parrot (ep6)
HaNaYaMaTa - Hana's Mother
Hell Girl - Masami Sekimoto (ep4)
IS: Infinite Stratos - Laura Bodewig, Boy (ep11), Yuko Tanitomo, Additional Voices
IS: Infinite Stratos 2 - Laura Bodewig, Black Hare Squad (ep6), Yuko Tanimoto, Additional Voices
Jyu-Oh-Sei - Planetarium VO (ep1), Wildlings (ep1)
Kaleido Star - Jonathan, Charlotte, Elder Brother, Little Brother A (ep37), Additional Voices
Linebarrels of Iron - Yui Ogawa, Additional Voices
Little Busters! - Kudryavka Nomi, Chernushka
Magical Warfare - Mahoko
Maria Holic - Yonakuni-san
Maria†Holic: Alive - Yonakuni-san, Mii Habutae, Additional Voices
Martian Successor Nadesico - Ryoko Subaru, Junpei
Mezzo DSA - Manon Asakura (ep6)
Moonlight Mile - Akemi Saruwatari, Connie Wong, Narrator
My Bride is a Mermaid - Additional Voices
Mysterious Girlfriend X - Additional Voices
NAKAIMO - My Little Sister Is Among Them! - Maiko Kotori
Neon Genesis Evangelion - Asuka Langley Sōryū
Noir - Altena, Store Clerk (ep3), Village Boy (ep22), Additional Voices
One Piece - Nojiko, Flying Fish (eps328-329), Harry (ep135), Shalria
Ouran High School Host Club - Kuretake (ep11)
Papuwa - Eguchi
Peacemaker Kurogane - Additional Voices
Princess Nine - Yoko Tokashiki, Boy 3 (ep16), Kids (ep5), Rumi (ep4)
Re: Hamatora - Ichiko (ep1), Natsukawa, Young Nice
Say "I love you." - Female Teacher (ep1), Mei's Mother (ep1), Additional Voices
Shadow Skill - Lai (ep14)
Shin-chan - Summer, Additional Voices
Shining Hearts - Sorbet (ep5)
Sorcerous Stabber Orphen: Revenge - Esperanza (eps13-23), Proprietress (ep13)
Steel Angel Kurumi - Tsunami
The Ambition of Oda Nobuna - Ikeda Tsuneoki, Magara Naozumi, Mitsuhide's Mother (ep8), Additional Voices
The Book of Bantorra - Rithly Charon, Female Owner of the Inn, Additional Voices
The Wallflower - Auntie, Additional Voices
Those Who Hunt Elves II - Mihke, Pichi, Elvish School Girl (ep6), Little Panda (ep3)
Tsubasa: RESERVoir CHRoNiCLE - Ashura
Tsuritama - Koko
Xenosaga: The Animation - Juli Mizrahi (ep4), Woglinde Operator
Anime Shorts - Dubbing
Movies - Dubbing
OVA - Dubbing
Web Anime
Upotte!! - Tei (T91), Girls (ep1), Saiga (Saiga12k), Additional Voices
Live-Action Voice Work
Movies - Dubbing
Video Games
Video Games - Dubbing
Trivia
Number of VA titles on this wiki: (114)
Ad blocker interference detected!
Wikia is a free-to-use site that makes money from advertising. We have a modified experience for viewers using ad blockers

Wikia is not accessible if you've made further modifications. Remove the custom ad blocker rule(s) and the page will load as expected.