Rafael Antonio Oliver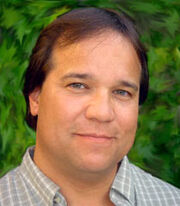 (born May 12, 1958 in San Juan, Puerto Rico) known more by the name
Tony Oliver
is an American voice actor best known for voicing Rick Hunter from Robotech and Arsène Lupin III from Lupin The 3rd.
He has also done voicework in various Power Rangers series, and has also written several episodes of Power Rangers, between MMPR Season 1 and Power Rangers Turbo. He was also the supervising producer for the series Mighty Morphin Power Rangers, VR Troopers, and Masked Rider, as well as the co-producer for Power Rangers: Zeo. He is currently the voice of Ulquiorra Cifer in the anime Bleach and Minato Namikaze in Naruto: Shippūden.
Filmography
Anime
Anime - Dubbing
Movies
Movies - Dubbing
OVA
TV Series
Video Games
Klonoa - Forest Guardian, King Seadoph, Solare
Trivia
Number of VA titles on this wiki: (126)
Ad blocker interference detected!
Wikia is a free-to-use site that makes money from advertising. We have a modified experience for viewers using ad blockers

Wikia is not accessible if you've made further modifications. Remove the custom ad blocker rule(s) and the page will load as expected.