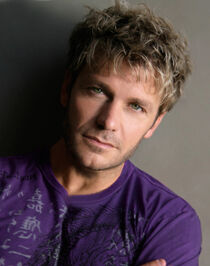 Victor Joseph Mignogna
(born August 27, 1962 in Greensburg, Pennsylvania) is an American Anime Award winning voice actor and musician for works at ADV Films, Bang Zoom Entertainment, Funimation Entertainment and Seraphim Digital.
He's known for voicing Broly in the Dragon Ball series, Dark Mousy in D.N.Angel, Edward Elric in Fullmetal Alchemist and Fullmetal Alchemist: Brotherhood, Ikkaku Madarame in Bleach and Tamaki Suoh in Ouran High School Host Club.
Animation Voice Work
Web Animation
Anime Voice Work
Anime - Dubbing
Anime Shorts - Dubbing
Movies - Dubbing
OVA - Dubbing
Web Anime - Dubbing
Live-Action Voice Work
Movies - Dubbing
Video Games
Video Games - Dubbing
Trivia
Number of VA titles on this wiki: (195)
Encouraged by his friend John Gremillion to audition for ADV Films.
Ad blocker interference detected!
Wikia is a free-to-use site that makes money from advertising. We have a modified experience for viewers using ad blockers

Wikia is not accessible if you've made further modifications. Remove the custom ad blocker rule(s) and the page will load as expected.