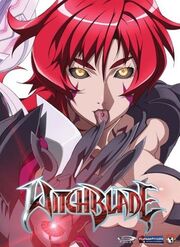 Witchblade
(ウィッチブレイド) is an anime series based on the American comic book Witchblade. Instead of an adaptation of the original story, the producers decided to create an entire new setup, with all new characters. This co-production between Japanese studio Gonzo and American publisher Top Cow, who owns the rights for the Witchblade franchise, was licensed for release in the United States. The English dub premiered on the US cable network IFC in January 2008. The show aired on Tuesdays & Wednesdays at 3:30 AM ET, and the series finale aired on June 13, 2008, on IFC.
English Voice Cast
Main Cast
Secondary Cast
Minor Cast
Additional Voices
Ad blocker interference detected!
Wikia is a free-to-use site that makes money from advertising. We have a modified experience for viewers using ad blockers

Wikia is not accessible if you've made further modifications. Remove the custom ad blocker rule(s) and the page will load as expected.